Zenith City Media serves as multimedia platform for local business, musicians
The new Duluth business offers a "one-stop shop" for promotional services.
DULUTH — Zenith City Media is a new media production company that specializes in advertising, events and social media management.
Owner Victor Martinez, also known as DJ Vegas Vic, hails from Las Vegas. In 1994, his mother moved to Minnesota to raise the family. Martinez recalls coming home from school every day and listening to the radio. Fascinated, he hoped to someday recreate the magic coming through the airwaves.
Over the past 25 years, Martinez gained audio and graphic design experience through opening several social media management and audio recording businesses, including Ace of Spades Studio in Superior and Purple Storm Media, Lake Breeze Audio Recording and Pinnacle Pointe Studios in Duluth.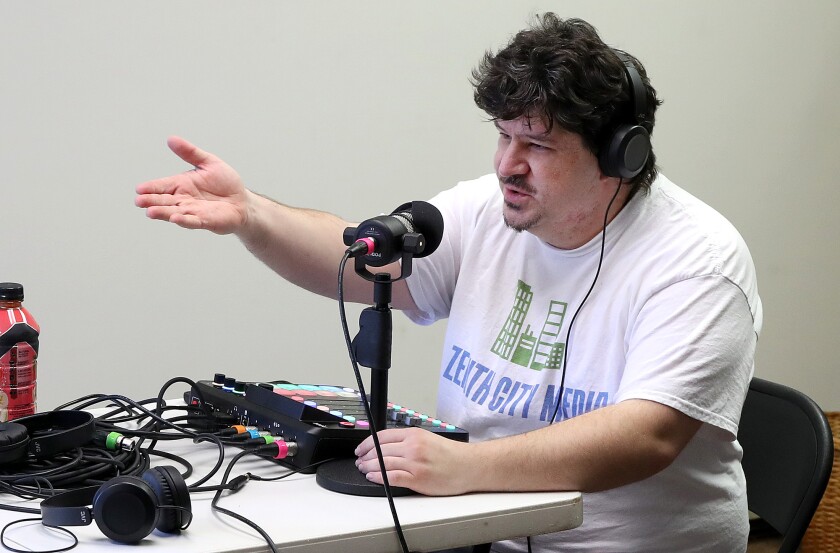 The journey led to the launch of Zenith City Media in September. The business is operated by five staff members, including Martinez and his fiancee, Chantelle Taylor.
While the business is currently mobile, its future plans are to operate from the studio inside the new Duluth Creative Co., owned by Asher Carlson, which will open in the Bagley Building, 317 W. Superior St., on March 1. Duluth Creative Co. is hosting its preview party Feb. 23 from 6-8 p.m.
"I wanted to open a home base co-lab space for creative entrepreneurs, much like Zenith City Media. They are a great fit for the space," Carlson said.
"It's not just your cookie-cutter social media management company," Martinez said. "We hope to spotlight new businesses and musicians to help them grow and scale local success, and even bring nationwide and international attention."
Members have the opportunity to be showcased on various media, including Zenith City Media's internet-based commercial radio station, events and podcast as well as an upcoming print and digital magazine.
"I feel like that sets us apart from other social media management companies," Martinez said.
Zenith City launches online radio station
Zenith City Radio plays music and covers local, national and world news. It is downloadable as a freestanding application on the Apple Store or Google Play.
The station primarily plays 1990s rock and hip-hop music. For an hour each day, it offers a platform for Twin Ports musicians and bands to feature their music, or for guests to join or host radio talk shows. Call-in requests are also accepted on the mobile application request line.
"It's been really good. It's really been taking off," said Martinez, adding that he's built up a network of about 200 musicians over the years.
Described as a "radio station in a box," Martinez explained that he can set up his equipment just about anywhere to record the "Vegas Vic Podcast" show, radio show or an advertisement for his members.
Zenith City Media is hosting the Twin Ports First Annual Business Convention Gala on April 1 from 11 a.m. to 3 p.m. at Barker's Island Inn Resort and Conference Center in Superior. The event will showcase new products and services in the area. There are 27 local vendors, including businesses, community leaders and musicians.
"Some are new. Some are established. It's just a taste of what we have coming with the whole package," said Martinez.
The event is free to vendors and attendees. The first 40 people to sign up for VIP access will receive a free meal and a gift bag. There are nearly $1,000 in raffle prizes.
Martinez would like to make the gala an annual event, in addition to hosting live music events, fundraisers and more.
Zenith City Media plans to publish Premier Magazine quarterly as another means for its members to gain exposure through advertising and feature stories. Up to 500 print copies will be displayed at participating businesses. The digital edition is planned to launch this spring.
Premier's content will focus on community events, artists, musicians and businesses. Martinez hopes to foster reader engagement by including geocaching activities with prizes. Taylor will serve as the creative director.
The menu of specialty coffee and pastries mirrors that of the Fitger's Yellow Bike Coffee location. Once the new kitchen is complete, craft food options will be available at the Airpark site.