Superior woman finds good in garbage
"One time, I picked up a toilet and painted it. ... It was clean — don't be grossed out," said Deb Wilson of Junk Redeemed.
We are part of The Trust Project.
SUPERIOR — Champagne cork wrappers, an old stamp, a paper doll cutout — it's all fair game for Deb Wilson.
"I've always had a passion for garbage," she said.
Wilson started reclaiming paper debris from campsites or the side of the road at an early age. "One time, I picked up a toilet and painted it. ... It was clean, don't be grossed out," she said.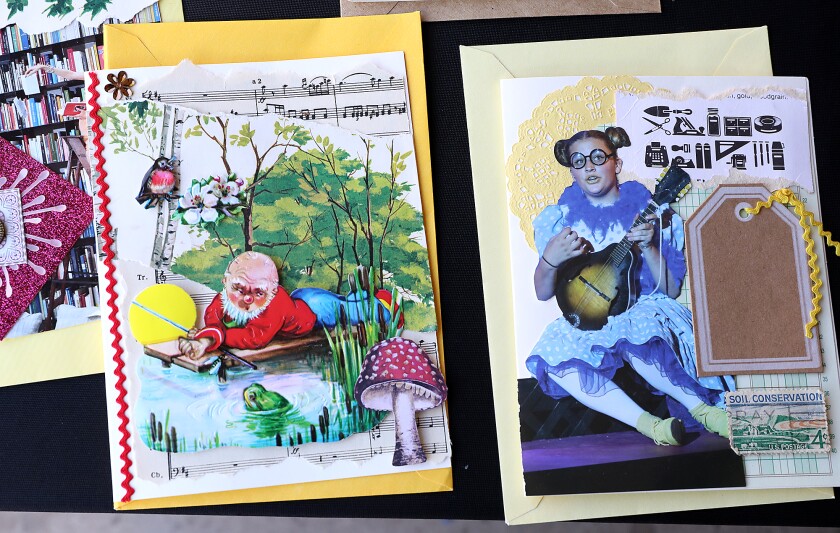 Wilson is behind Junk Redeemed , a budding upcycling hobby-turned-business, offering furniture, "junk cards" and more.
Junk cards are just as they sound: paper greetings with covers featuring old sheet music, a metal keyhole, turquoise lace or pages from a AAA magazine.
Her furniture isn't far off in pieces she deep-cleaned, spray painted, reupholstered or slapped with a cheeky decal. (See: "Please don't die" on a plant stand.)
Wilson has items on consignment at Superior's Junk and Disorderly, and she's tabling from 4-7 p.m. July 19 at Hoops Brewing in Duluth's Canal Park.
A corner of Wilson's garage is filled with old suitcases, a step ladder, a birdcage, a beat-up mailbox, ancient ledgers and a rooster statue. She has boxes of furniture legs in different sizes and materials, and almost all of it was found or free.
This stool was "chipping, nasty faded yellow," she said of a piece that now stands bright red with new black floor protectors and a cherry-themed seat cover and backing.
"A lot of the stuff would be thrown away. Getting a second shot at life is such a big deal to me, in the human world and the weird furniture world," she said. "You might feel broken and like you're missing a leg, but it's OK cause you're still fixable. There's still redemption."
Wilson has sold works at junk hunts and different markets. During COVID, she took it a step further with her card sales. She also started a Facebook group to find other junk seekers.
She appreciates interacting with people at live events and seeing their responses to her work. Otherwise, many of her card interactions are via "happy mail" with pen pals all over the globe: Washington, Florida, Australia, Europe and even Superior. They send each other stickers and other "dorky things," and it's a connected community.
"Sometimes, writing things is different than talking face-to-face. It's very therapeutic," she said.
Wilson starts designing junk cards with a bigger image. Then, she'll add texture, random accouterments and build them up and out before gluing them down.
This summer, she's unveiling "choose your own adventure" cards, with the cover designed by her and printed stickers with various sentiments. Many are kid quotes:
"You should make a bowl of popcorn. I have lots of thoughts and feelings." –Jenny, age 3
"We all know you'd be a lot happier if you slip chocolate in your bed at night. That's what I do." –Ella, age 6
"Sometimes, when my feelings are big, I like to sing them." –Connor, age 5
She hopes the sale of these and her junk journal kits — think a journal or scrapbook — will help subsidize her happy mail and other artsy interests. "It's not about making money. I'd like to be sustainable in my junk," Wilson said.
Asked about her biggest find, she recalled a two-seater bike with baskets in the front and back. There's also that time she scored a heavy wishing well that didn't quite fit in her car.
"I had to drive really slow. I took the side roads," she recalled.
And what about that toilet?
Wilson painted it and used it as a joke chair. "Eventually, it ended up with plants and things inside — a great centerpiece and talking point for a while," she said.
Learn more about Deb's Junk Card Club on Facebook, bit.ly/3OAoZHa , and on Instagram, instagram.com/ithoughtofyou.
On its 30th anniversary of selling coffee on the North Shore in Grand Marais, the Jorgensons retired. The year-round Java Moose location is unaffected.