Mobile saunas heating up Northland
Sauna du Nord is one of many businesses participating in the Great Duluth Sweat Together, which will aim for a new Guinness World Record: the most people to take a sauna in one city in a day.
DULUTH — Coming from a corporate background, Megan Kress appreciates the noncompetitive nature of the local sauna industry and the unique opportunity it provides to make connections within the community, serving as an equalizer for those who partake.
Kress launched her own mobile sauna business, Sauna du Nord , in October.
While working as the director of corporate sales at a Duluth-based business in January 2022, Kress inquired with Duluth-based Hiki Hut owners Kelby and Whitney Sundquist about their mobile sauna service for a staff party after COVID eased. Her employer had booked the handcrafted sauna trailer in 2019 for its staff party. According to Kress, "not only was the sauna amazing, but so were the inviting and genuine ways of the owners."
However, the Sundquists had since dropped their business insurance and were using the hut as a personal sauna in their backyard.
"I needed to find a way to bring a mobile sauna back to Duluth," Kress said. "I am not a sauna expert, but I love it because of the experiences I've had in it —not only mind and body, but also the really interesting social connections that can happen in saunas."
She offered to purchase the Hiki Hut, but it wasn't for sale. Instead, the Sundquists offered some business advice.
"I give them a lot of credit," Kress said. "There is a resurgence of sauna culture. They were on the leading edge. They were so welcoming and their sauna was so accessible. I loved the feeling and experience I had with them, so I wanted to pick up where they left off."
Previously self-employed for over 14 years in the outdoor industry, Kress has experience running a sales agency for outdoor apparel and equipment brands.
She is also co-founder of Blue Water Paddling, a dragon boat and outrigger canoe paddling club. She has coached at a national level for Team USA and attended three World Championships.
Kress dove into her research of sauna builders, gauged the market for mobile saunas in the Northland, and networked with peers in the industry before formulating a business plan. Sauna du Nord was 50% financed through the Entrepreneur Fund.
"Insurance was the big piece," Kress said. "Mobile saunas have their own unique challenges."
Kress finds support among a group of women "sauna-prenuers" who like to share about their different approaches to the business.
Sauna du Nord offers private party rentals for up to 10 people with free delivery up to 30 miles, as well as "sauna in situ" — on-site community sauna opportunities at partnering businesses or events.
One Saturday each month, the Sauna du Nord mobile unit sets up at Movo Studio to offer an hourlong session on the bench, while the adjacent Juice Pharm offers free wellness shots — a collaborative approach to draw awareness across businesses.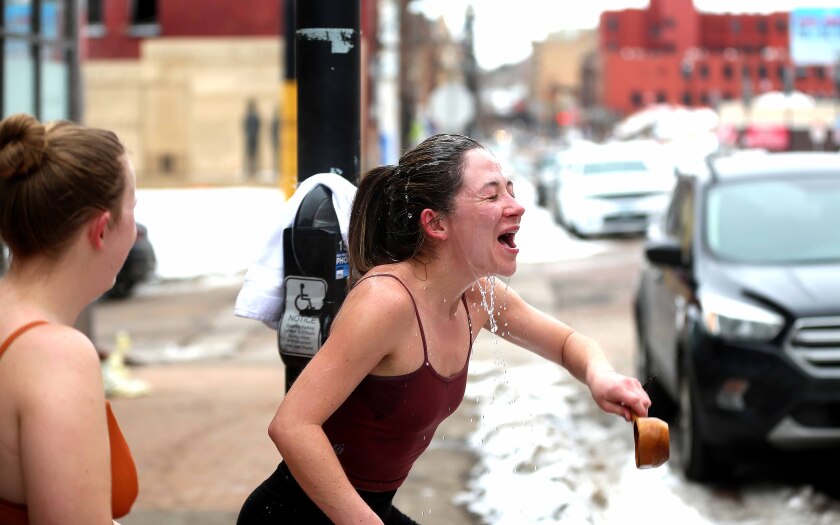 Sauna du Nord has also partnered with Lester-Amity Chalet to offer community sauna to those there to ski, bike or snowshoe.
Kress is most inspired by the potential of community and connection that comes from sharing a cedar bench, wood stove and löyly (steam).
"You'll probably meet new people in the sauna," she said. "It is a fascinating place that provides the opportunity for unlikely connections. There is a Finnish quote that says 'everybody is equal, but nowhere more so than in a sauna.'"
Simplicity lives at the core of Sauna du Nord, Kress said. From storing and cleaning the unit, to preparing the firewood, checking the weather and delivering the trailer — there aren't any bells and whistles to her services.
"I want to provide a space for people to have their own experience by giving them some tools and then I get out of the way," Kress said.
Sauna du Nord uses high-efficiency, Kuuma wood-burning stove from Lamppa Manufacturing in Tower. She finds wood-fired saunas can feel quite different than the dry heat of an electric stove.
The Kuuma stove is the one of the most efficient wood-burning sauna stoves and furnaces in the world. Its production is fueling a rebirth in the city of Tower.
Regardless of experience, Kress encourages sauna-goers to start where they're at —whether that be the floor or the hotter top bench. Temperatures for sauna in situ are typically in the 180- to 190-degree range to accommodate the heat tolerances of beginners to the well-seasoned.
Sauna originated in Finland, but has seen different variations across cultures. In Nordic culture, saunas are cedar-lined because of the wood's antimicrobial traits.
"There is room for all of it. There is not a right or wrong way to sauna," she said. "Sauna is for everybody. That's my value. Wellness is not a privilege; it should be accessible and inclusive. It's a place for all walks of life. There is a sacredness to it and I want to make sure it is available to people."
With the Twin Cities driving an awareness of portable saunas with events like The Great Northern Festival, Duluth is seeing increasing opportunities in the market, Kress said. There are many iterations of mobile saunas: barrel, tents, trailer and more, some with electric heaters, wood-burning stoves or infrared heat.
The Great Duluth Sweat Together
The Brewhouse Family is hosting The Great Duluth Sweat Together on Sunday from 3-8 p.m. on the grounds surrounding Endion Station Inn, 200 Lake Place Drive.
The event aims to add a new Guinness World Record: the most people to take a sauna in one city in a day. Anyone who takes a sauna anywhere in Duluth on Sunday could count toward the total world record. Visit duluthsweat.com to register.
While entry to the in-person event is free, a donation of $10-$20 per person is suggested. All net proceeds will go toward supporting homeless youth and young families at Life House Duluth.
Participating sauna companies include Sauna du Nord, Nisswa Sauna, North Shore Sauna, Heritage Sauna, Setri Barrel Saunas, Voyageur Saunas, Wisconsin Sauna, Superior Sauna, Northwoods Saunas, Stonegrove Saunas, The Well, and Cedar and Stone. The built-in sauna on the Endion Station Inn deck will be available for use as well.
Activities include:

Yard games
Food vendors, including Fitger's Brewhouse beer and grill food
Fire pits
Live DJ by Mix 108
Plunge pool pumped with Lake Superior water
Pop-up booths with local artists and vendors
"Snow-ga" by Evolve Yoga & Spin
Snow sculpture contest
Fire spinners
Guests are encouraged to bring their own towels and robes. Changing tents and porta-potties will be available for guests.
A "Parade of Robes" will take place in a loop near the event and back and there will be a contest for the best robe and slippers.
The menu of specialty coffee and pastries mirrors that of the Fitger's Yellow Bike Coffee location. Once the new kitchen is complete, craft food options will be available at the Airpark site.