Safety questions raised after Kentucky explosion on Enbridge-owned pipeline
Superior mayor wants to know if something similar could happen in the Northland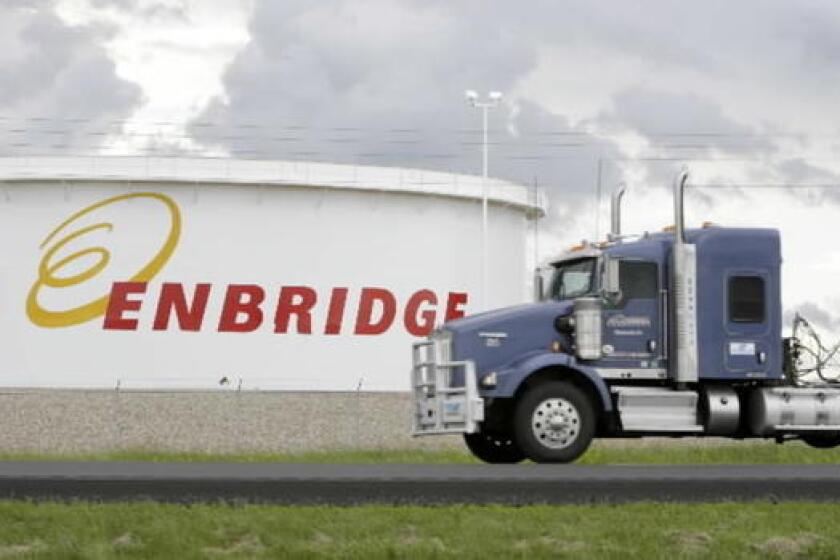 An explosion on an Enbridge-owned pipeline in Kentucky prompted the latest in a series of questions surrounding the safety of the energy firm's lines running through Wisconsin and the Upper Midwest. The incident on the Texas Eastern natural gas system killed one person and injured five others.
While releasing the company's second-quarter financial results Friday, Enbridge President and CEO Al Monaco said their hearts go out to the family and community.
"Our first concern of course is for those impacted, so we've mobilized resources to assist and support them," said Monaco. "Secondly, we're working with the federal agencies to investigate what happened and how the learnings can improve our approach and that of the industry in the future."
The cause of the explosion in Kentucky isn't yet known. Superior Mayor Jim Paine said he wants to know if something similar could happen to his city. The company has 11 pipelines that move crude oil and natural gas liquids through Enbridge's Superior Terminal.
"While industry sometimes results in accidents, I think we need to make sure we have the safest possible working and living environment around these resources," said Paine.
The Superior community has been affected by explosions on the company's system in the past. In 2007, two Superior men were killed in an explosion while they were working on an Enbridge pipeline near Clearbrook, Minnesota. Federal regulators issued the company a $2.4 million fine for the incident in 2010.
The Texas Eastern system experienced a separate explosion earlier this year. There have been 29 federal enforcement cases against Texas Eastern Transmission, LP, according to data from the Pipeline & Hazardous Materials Safety Administration. Those cases have included pipeline safety violations, such as the failure to maintain baseline assessment records containing information on pressure tests and in-line inspections.
"There's an absolute obligation when there's been a serious accident to identify the causes and make improvements and prevent that from happening again," said Paine. "It is not acceptable to simply say the industry is dangerous and leave it at that. We understand it's dangerous. It must get safer."
In a news release on its financial results, Enbridge's CEO said the Kentucky pipeline won't be back in service until it's considered safe, adding the explosion "serves as a critical reminder as to why the safety of our systems has and always will remain our number one priority."
But, Peter Anderson with the climate action group 350 Madison said the incident demonstrates why environmental groups and Dane County sought to insure taxpayers from potential damage related to the operation of Enbridge pipelines. He said incidents on the company's system like those in Kentucky and the 2010 Kalamazoo River spill in Michigan should be reviewed as a whole.
"This accident record reflects what's going on around this country and Canada," said Anderson. "All of that should be rolled into an evaluation."
Enbridge said safety is the company's number one priority. The company has invested more than $8 billion to maintain the integrity and reliability of its system since 2012, according to a July report from the company. Enbridge said it also conducted more than 29,150 pipeline inspections on its pipelines last year and safely transported nearly 3.9 billion barrels of oil .
The company has been facing opposition and multiple lawsuits from state administrations to environmental groups and tribes who have questioned the safety of its aging Line 3 that runs through northern Minnesota and 66-year-old Line 5 running through northern Wisconsin and Michigan.
Wisconsin Public Radio can be heard in the Twin Ports at 91.3 FM or online at wpr.org/news .