Proctor junior builds memories out of frosting
Lexi Milbridge, 17, started a cake baking and decorating business with help from the Proctor Pathways business leadership program.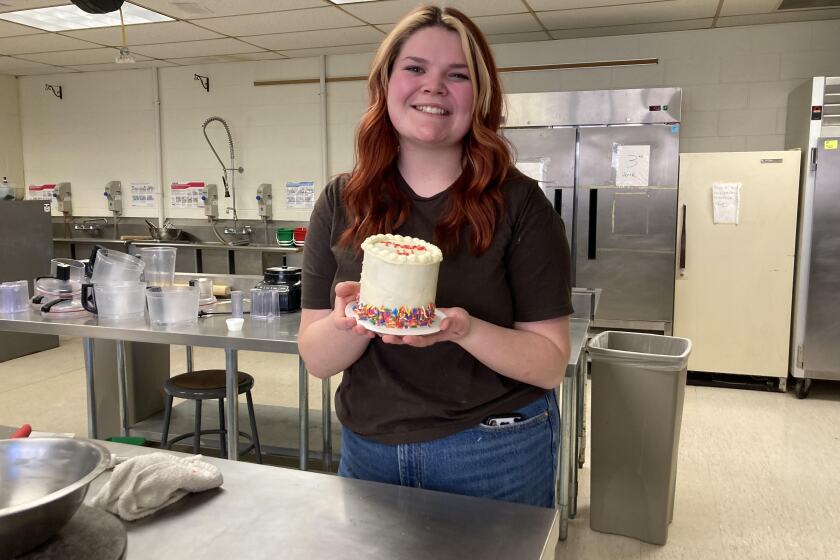 PROCTOR — When Lexi Milbridge started baking and decorating cakes, she didn't know if the hobby would stick.
"I originally started in fifth grade and thought it was a cool hobby, but I'd pick up hobbies all the time," Milbridge, 17, said. "But I started getting serious about it about a year later and found it was something I really liked to do."
Today, Milbridge runs her own baking and cake decorating business, Lexi's Cakes and Co., mostly out of her parents' kitchen. The Proctor High School junior picked up some business skills and advice from the Proctor Pathways business leadership program and takes several orders for cakes, cupcakes and other baked treats every week.
Milbridge said her very first cake was "a disaster."
"I made my own birthday cake and it was the worst thing I ever looked at," Milbridge said. "I used a box cake mix and store-bought frosting and it picked up all the cake crumbs. Then I covered it in blue and purple sprinkles and it was basically just a lump of frosting and cake with some chocolate balls. It tasted fine, but it looked so bad."
Milbridge said her decorating skills came from a lot of trial and error.
"I started practicing more and more and watching YouTube videos and like, 'Cupcake Wars.' When I started out I was really bad," Milbridge said. "But the more you do it, the better you get. You start to figure out ways of being more efficient and getting things done more easily."
She also decided to move away from using cake mixes and pre-made frosting and started baking from scratch. She honed her recipes and played with different flavors to figure out what works best.
"Baking is a very precise science, which is something I like about it," Milbridge said. "It's not like cooking, where you put in a pinch of this or that. You have to measure things and make sure they're right, otherwise they won't turn out. It's fun to play with cakes and see what works and what doesn't, at least flavor-wise. I won't mess with the chemistry of a cake, though."
Since she started her baking business, Milbridge has made a variety of cakes for various occasions. She started by making cupcakes for her parents' friends' baby showers.
The high school has a new free thrift store thanks to work from students and donations from local businesses and residents.
"They said they didn't care what they looked like as long as they tasted good," Milbridge said. "And I was just starting out then, so they didn't look as good as they would now. But I wasn't expecting to get paid and they did and I started baking for other people's events."
Milbridge said she's "rarely made the same cake twice." Most recently, she made a cake in the shape of a wood tick for an event. She's made many character cakes for children's birthday parties, from princesses to superheroes. But one request that she's repeated three times surprised her: a toilet paper roll cake.
"The first one was really unexpected. Like, who wants that as a cake?" Milbridge said. "Then I posted a photo of it and sure enough, I got two more orders for it. They saw it and I guess thought it'd be fun to take to a party."
She's also recreated cakes for people based on photos. Recently, she recreated the middle tier of a couple's wedding cake for their 25th anniversary. She plans to soon recreate her mother's favorite childhood birthday cake.
"That's something else I love about this," Milbridge said. "All of my childhood photos from birthdays include a cake. I remember what most of my birthday cakes looked like. I get to make something that will live on in people's memories and make them happy. That's really fun."
To order from Lexi's Cakes and Co, visit facebook.com/lexiscakesandco and fill out a Google form. Most orders need a 10-day notice.
Community members are welcome to watch Annmarie Geniusz work.
The city recently completed potential plans for a 120-acre business park in the former Arrowhead Refinery and surrounding area.
Erin and Matt Glesner have been working to fill in the void in Duluth's gaming scene.
The parade celebrates the running of the smelt: small, silver-colored fish that swim in Lake Superior up to rivers to spawn.