Lake Superior Brewing nears Lakeside opening
The formerly dry neighborhood in Duluth is home to the historic brewery with a new vision.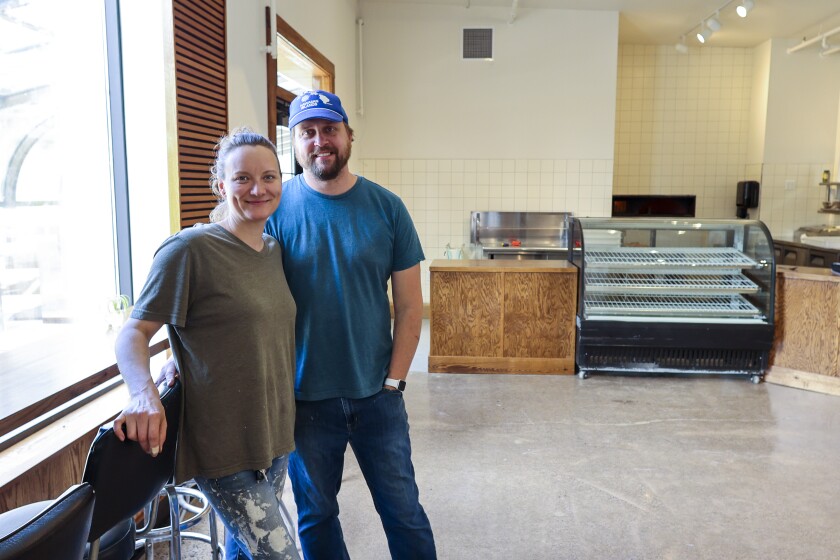 We are part of The Trust Project.
DULUTH — Lake Superior Brewing Co. is nearing its long-awaited reopening.
Since purchasing the business in 2020 from its former owner, Lars Kuehnow, new owners Sarah and Seth Maxim have been hard at work. Instead of continuing to rent from its longtime warehouse-style taproom location in the Lincoln Park neighborhood, the couple decided to purchase their own building in the Lakeside neighborhood.
Renovations to the new location are wrapping up, and staff will undergo orientation next week. A soft opening is anticipated during the third week of July. Regular hours will be 4-11 p.m. Tuesdays through Saturdays.
Although Lake Superior Brewing will no longer be distributing beer in liquor stores, recent state law allows growlers and six-packs of beer and full-size bottles of liquor to be sold by the brewers and distillers who make them. However, Lake Superior Brewing beer will not yet be available as it is opening in phases, but there will be a full bar available along with the opening of a restaurant.
"We wanted to get the ball rolling — do things small and right. The brewery will be finished within the next few months, hopefully by Labor Day," Sarah Maxim said.
The in-house brewpub will feature a full commercial kitchen with a menu inspired by the couple's world travels — an Asian, Italian and French fusion. There will be a wood-fire rotating oven with selections like pizza, wings, veggies, baked bread, bagels and baguettes. Seth Maxim will serve as the executive chef, with all recipes made in-house from scratch. Sarah Maxim will serve as general manager and handle customer service.
Over the past two years, many challenges arose with renovations of the former Sun City Tanning and Xcel Xercise building at 5324 E. Superior St., Sarah Maxim said.
Seth and Sarah Maxim, who purchased Lake Superior Brewing Co. in 2020 and relocated it to Duluth's Lakeside-Lester Park neighborhood, are creating a brew pub with adjacent rental properties.
"The old 7,000-square-foot building needed to be peeled back and we discovered there was more to be done. It turned out to be a complete gut. The slab and brick is original. Everything else outside and inside is pretty new," she said.
Construction saw further delays due to the economic impacts of the pandemic, such as cost increases, material shortages and difficulty finding subcontractors, Maxim explained. With financial delays, the couple continued to adjust by completing more of the work themselves to save money amid the rising prices while postponing the original anticipated opening in 2021. They were also intentional about recycling, reusing and refurbishing any wood and metal during the design and rebuild process.
"Everything moved slower during COVID. Material and equipment prices tripled or quadrupled," Maxim said. "Plywood went from $70 to $120. The cost of 2x4s went from $4 to $12. There were even shortages of materials like caulk. We had put out eight bids for plumbing and it took six months to get two bids back."
The Maxims also operate three vacation guest rentals attached to and adjacent to the brewery, each equipped with a full kitchen and laundry. The "brewtel" rental properties have been instrumental in keeping the lights on during the transition, according to Sarah Maxim.
"It was a challenging time to do a project of this scope," she said.
"But we made it through and are excited to take off the construction boots and get to work on the creative side of things we love. We are blessed with friends, family, community and neighbors who have stepped up to share their time and resources. We are touched that we feel wanted by the community and that people are interested."
Along with the move, Lake Superior Brewing patrons can expect additional changes to what was originally known as the Minnesota's oldest microbrewery, originally founded by Dale Kleinschmidt, John Judd III, Karen Olesen and Don and Jo Hoag in the early 1990s.
Neighbors and its landlord confirmed the taproom is closed.
"We have rebranded to make it ours while keeping the legacy and preserving the heritage of brewing old-world classic beer," Sarah Maxim said.
The Maxims have been in the restaurant and brewery industry for the past 15 years. For a decade, Seth Maxim served as head brewer at downtown Duluth's Dubh Linn Irish Brew Pub, a family business run by his brother and father.
As self-described "hardcore foodies" who both grew up in the area, the Maxims are excited to bring a family-friendly dining environment to the neighborhood's nearly 15,500 residents that isn't typically available in that part of Duluth. In June 2016, a 125-year-old ban on liquor sales was lifted on the formerly dry Lakeside and Lester Park neighborhoods. However, full-service food and beverage dining options remain limited, Sarah Maxim said.
"We are very excited to offer full service in a family-friendly environment. People can walk or bike here," she said.
Their children, Finnean Maxim, 7, and Fern Maxim, 4, both enjoy being involved with the process, Sarah Maxim said. With a focus on community, the owners hope to break the stigma of burnout in the hospitality industry by offering a healthy and happy environment for their staff with the new hours. They also hope to add a community compost site in the future.
Follow Lake Superior Brewing Co. on Facebook or Instagram for the official grand-opening announcement, or visit lakesuperiorbrewingduluth.com for more information.
This week, as we head into fall and inevitably winter, I'm going to touch on some classic and newer beer styles that I've been a fan of and a brewer of over the years.
Key supplies are increasing in price and decreasing in supply putting pressure on an industry still recovering from COVID-19 closures.
History is a huge part of the identity of the Dodge County seat of Mantorville, but even long-time locals are intrigued by the hidden past just off Main Street.
The landscape of the brewing industry has changed and evolved very quickly in the last 10 years: new beers, new trends and a much more educated beer drinking patron.