Kismet in Carlton Balloon Festival takes off
The Northland's largest candy store hopes to bring iconic hot air ballooning back with an annual event.
We are part of The Trust Project.
CROMWELL — Sweetly Kismet Candy Store took the term "sugar high" to new levels as it hosted the first Kismet in Carlton Balloon Festival on Friday and Saturday.
The event took place in conjunction with the Cromwell Harvest Festival at the Cromwell-Wright High School baseball fields. Next year, organizers anticipate the balloon festival to be held in partnership with Black Bear Casino Resort in Carlton.
In previous years, Bayfront Festival Park served as the setting for the Duluth Hot Air Balloon Festival. Following a four-year hiatus, a group of organizers in the Northland decided to host a similar rally farther inland for safety reasons.
"Bayfront was a difficult venue to launch and fly from because of unpredictable winds. We didn't want to end up over Lake Superior with nowhere to land," said Jon Parrott, owner of Sweetly Kismet Candy Store in Carlton.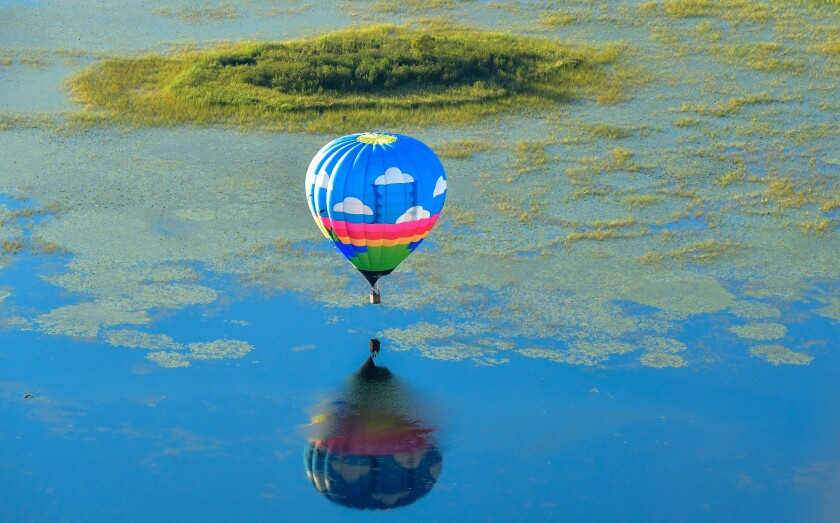 A hot air balloon pilot, Jon joined fellow Minnesotan aeronauts Ed Chapman , Brett Tupy and brothers Mark and Tom Spanier in efforts to share their joy of the activity with others in the area.
"There are not many people that do it, maybe less than a dozen in the state. We're hoping to bring hot air ballooning back and revive it. This gives local pilots a way to show the community what they do and display their balloons," Jon said.
With tethered rides and commercial flights followed by a glow balloon display Saturday at dusk, the first annual Kismet in Carlton Balloon Festival was a success, drawing a baseball field bustling with attendees. The Sweetly Kismet Candy Store hosted the event, with concessions available for hungry balloonatics.
JoAnn Schmidt said her family ventured over an hour to Cromwell from Pine City because it was a good opportunity for her daughter, Claira Schmidt, who has Down syndrome. They opted for a tethered ride in the Sweetly Kismet balloon.
"It was hot," JoAnn said as she described the heat from the burner as they stood in the basket, "and cool! I think it is a very cool event that the town of Cromwell put on — very unique. Fortunately, the weather cooperated. Take the opportunity if you ever had the chance."
After graduating from the University of North Dakota, Jon gained experience as a flight instructor and flew corporate jets. He left the industry in 2008, and in 2017 set out to open a family business with his wife, Ashley Parrott. She had been working as a nurse and Jon was a business owner.
They dreamed of creating a candy store tourist destination, and purchased a hot air balloon as a marketing tool. Chapman provided Jon's training to get an additional rating on his pilot license.
"The best thing I've learned about hot air ballooning is the community. It's a community to where you meet people who have the same love and passion for flying. In the sport of hot air ballooning, there is a lot of work to it —setting up, tearing down and putting things together, but if someone asks for or needs something, everyone pitches in," Jon said.
Prior to opening Sweetly Kismet Candy Store on June 26, 2020, the Parrotts were firing on all cylinders to clear land, build a road, and prep the site of the candy warehouse. Tucked away in the pine trees behind Kwik Trip on state Highway 210 in Twin Lakes Township, it is located within minutes of Jay Cooke State Park .
"The first summer we opened, it was an unsure time with the COVID-19 pandemic, but we had a great welcoming by the community. In our second season, we struggled with supply chain issues. It was a challenge to get product, but it's improving. This summer, it has finally been a somewhat normal year," Jon said. "We're growing and getting bigger, but have to pace ourselves with whatever the world has in store at any given moment."
With 4,500 square feet, the niche gift shop's shelves are full of 3,500 candies, sodas and other snacks. A true family business, the couple's three children and two sheltie pups, Pez and Pixie, warmly greet customers.
Commissioners approved financing for a Wright couple to open Sweetly Kismet.
Tractor rides, food trucks and outdoor activities like children games, roasting marshmallows and hot dogs over an open fire take place throughout fall at Kismet. And, of course, there are occasional tethered hot air balloon rides at the store, weather dependent. Event details can be found on the Sweetly Kismet Candy Store Facebook page at @ultimatetcandyexperience .