Invisible no more: Port Authority raises profile of industry jobs in Duluth
In its latest study, the Port Authority noted the value of industrial jobs to Duluth, and also pointed to the fact there are open industrial jobs waiting to be filled.
We are part of The Trust Project.
Industrial jobs in the city of Duluth pay higher annual wages than other jobs, leading to higher tax revenue, and are accessible to a wide range of educational backgrounds, a Duluth Seaway Port Authority study announced last week.
The study used 2019 data to affirm conclusions made three years ago when the Port Authority undertook a similar analysis of industrial jobs in the city. The goal then was to spotlight industry, and keep it from getting lost amid bustle over the city's highly visible tourism and health care industries.
"These jobs are very important, yet they tend to be more invisible," Port Authority Executive Director Deb DeLuca said. "It's one thing to be invisible at a cocktail party, but once it starts to enter the policy realm it becomes problematic."
The latest data is more than a reminder on the importance of industrial work. It highlights how those jobs can offer a way back during a recovery necessitated by the COVID-19 pandemic economic downturn.
"We're aware of good, industrial jobs — some right on the working waterfront — available right now," Port Authority spokesperson Jayson Hron said, delivering links to job openings at Altec Industries , Moline Machinery and Compass Minerals , which specialize in manufacturing electrical utility trucks, baking equipment, and salt distribution, respectively, at their facilities in Duluth.
At Compass Minerals, the "salt dock" located on Superior Bay off Railroad Street, plant manager Mark LaLiberte oversees roughly two dozen full-time employees. They process salt for the agriculture industry, but also for water conditioning and deicing products.
"Jobs associated with the port of Duluth-Superior have traditionally been jobs that support a meaningful standard of living for individuals and families," LaLiberte said.
The work at the Compass Minerals salt dock involves screening and crushing salt to size, he explained, adding mineral feed ingredients, making salt blocks, packaging of bagged products and providing bulk salt to large commercial customers.
Careers available at the dock right now include an entry-level utility position which entails offloading salt from both vessels and rail cars. Advancement into process and operator positions evolves with seniority and consistently proven performance, LaLiberte said, adding that the plant also has opportunities in production supervision and environmental, health and safety supervision.
He noted high retirement rates, and limited exposure to trades in high schools across the past 25 years as reasons why industrial job openings are prevalent locally. His company offers extensive on-the-job training, he noted.
"There are great wage and benefit opportunities in industries like ours, so young adults who are interested in an alternative to attending a four-year college should consider the training and great opportunities provided in industrial jobs from day one," LaLiberte said.
The Port Authority used Duluth-based Northspan to compile its latest study, which revealed a series of conclusions using 2019 data:
Duluth's industrial sector provided more than 9,800 direct jobs within the city and supported nearly 8,200 additional industrial and non-industrial jobs in St. Louis County.

In 2019, Duluth's industrial sector generated $5.1 billion in business revenues and contributed $439 million in state and local taxes, including $140 million supporting the Duluth community.

In addition to providing competitive benefits and equitable opportunities for advancement, Duluth's industrial jobs pay higher average annual wages ($68,913) than non-industrial jobs ($48,401) and the city's overall average ($51,012). Since the first study in 2018, growth in average industrial job income has outpaced growth in aggregate citywide income by more than 4%.

On a per-job basis, Duluth's industrial sector generates three times more tax revenue and supports twice as many additional jobs compared to the rest of Duluth's economy.

Industrial jobs are accessible to people from a wide range of educational backgrounds (high school graduates, tradespeople, those with specialized technical training, college graduates, etc.), providing an opportunity for equitable growth.
But what about 2020, with the pandemic's arrival? The Port Authority said it intends to study 2020 data next, to learn how industrial jobs were affected.
"We should never be concerned about data that tells the truth," DeLuca said. "The pandemic completely played with supply and demand. Look at how iron ore was down, but that reversed quickly ."
The News Tribune asked LaLiberte how the salt dock was impacted by the pandemic. He noted the need for salt meant it was less impacted than other bulk cargoes or materials.
"We have seen greater lead times in the supply chain," LaLiberte said, "but nothing at this time has greatly affected our operations in regards to critical goods or materials."
On the topic of recovery, DeLuca said industry might show the way to a better economy.
"Industry isn't past-tense in this community — it's a key contributor to Duluth's economic vitality now and into the future," DeLuca said, using the study to argue for development of some of the city's dormant industrial lands. "Growing the industrial sector in this community, and with it, the number of accessible jobs with higher wages, will create a stronger, more sustainable future for Duluth."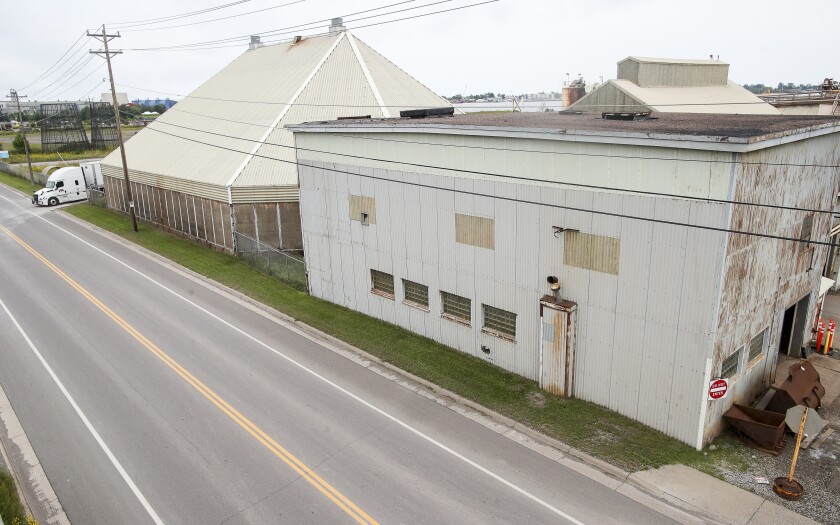 1
/
3:
A sign marking an entrance for Compass Minerals Duluth Plant along Railroad Street on Thurs, Sept. 2, 2021, in Duluth. Clint Austin / Duluth News Tribune
2
/
3:
Equipment seen at Compass Minerals Duluth Plant from Railroad Street on Thurs, Sept. 2, 2021, in Duluth. Clint Austin / Duluth News Tribune
3
/
3:
A salt storage area seen at Compass Minerals Duluth Plant along Railroad Street on Thurs, Sept. 2, 2021, in Duluth. Clint Austin / Duluth News Tribune