Historic ore boat nears return to service following long layoff
Wearing a new coat of paint, Arthur M. Anderson, the last ore boat to hear from the Edmund Fitzgerald before it sank in 1975, will load ore and return to work sometime next week following a two-year layoff.
The first ship on the scene after the Edmund Fitzgerald sank during a 1975 Lake Superior storm is expected to return to service next week following a prolonged layoff.
The Arthur M. Anderson is out of dry dock at Fraser Shipyards in Superior, wearing a new coat of paint and testing its steam power plant. The lake freighter is expected to be back in service shortly before the weekend starting July 27.
"There's plenty of cargo to carry, so everybody is anxious to get her running," said Mitch Koslow, vice president of Key Lakes Inc., which operates the Great Lakes Fleet of ore boats for Canadian National Railway.
The 767-foot Anderson has not been in service since January 2017, when it was laid up in Duluth due to subpar economic conditions. But an improved economy has led to an increase in the amount of cargo booked by the company. With higher demand, the Anderson was called upon.
"Things have improved to the point where we can use (the Anderson) to meet the needs of our customers," Koslow told the News Tribune in April, when it was learned the vessel would be brought back into service.
Since then, the Anderson has spent much of its time in dry dock at the Superior shipyard, where she underwent a five-year survey and "quite a bit of steelwork," Koslow said.
As of Friday, the lake freighter was no longer operating on shore power as the ship's steam plant and own generators were brought on-line. Koslow said he'll spend the weekend gathering a crew for the ore boat.
Early next week, a regulatory inspection and safety drill will precede the vessel taking on a load of taconite iron ore in either Duluth or Two Harbors. Inspections are conducted by the U.S. Coast Guard and American Bureau of Shipping.
Built in 1952, the Anderson showcased a fresh coat of paint this week as it floated dockside in Howards Bay. The Anderson wears the telltale markings of the Great Lakes Fleet — a maroon hull featuring gray and black bow stripes.
The coat of paint was a special one — an upgrade over more hastily applied winter layup paint jobs.
"We did a complete (sand) blasting and paint job," Koslow said. "We figured that since we were bringing her out in good weather, we took advantage of it to get a first-class job done."
The Anderson had been famously trailing the Fitzgerald through the Nov. 10, 1975 storm and received Capt. Ernest McSorley's final radio call before he and 28 others went down with the Fitzgerald: "We are holding our own," McSorley reported to the Anderson.
Since the Anderson was pulled from dry dock earlier this week, Koslow said boat photographers have been appearing on Connors Point in Superior — a perfect vantage point to see the fresh-faced Anderson from across the narrow bay.
He expected plenty more folks to come out to view the Anderson blow its horn passing under the Aerial Lift Bridge sometime next week.
"She was laid up in good condition," Koslow said. "We hope to have her back in service and be on her way before next weekend."
1
/
3:
Crews at Fraser Shipyard attach a stencil to the Arthur M. Anderson before painting the name on in Superior on Friday July 19. (Jed Carlson / jcarlson@superiortelegram.com)
2
/
3:
Crews at Fraser Shipyard paint the name on the Arthur M. Anderson in Superior on Friday July 19. The Anderson was the last ship to have contact with the Edmund Fitzgerald. (Jed Carlson / jcarlson@superiortelegram.com)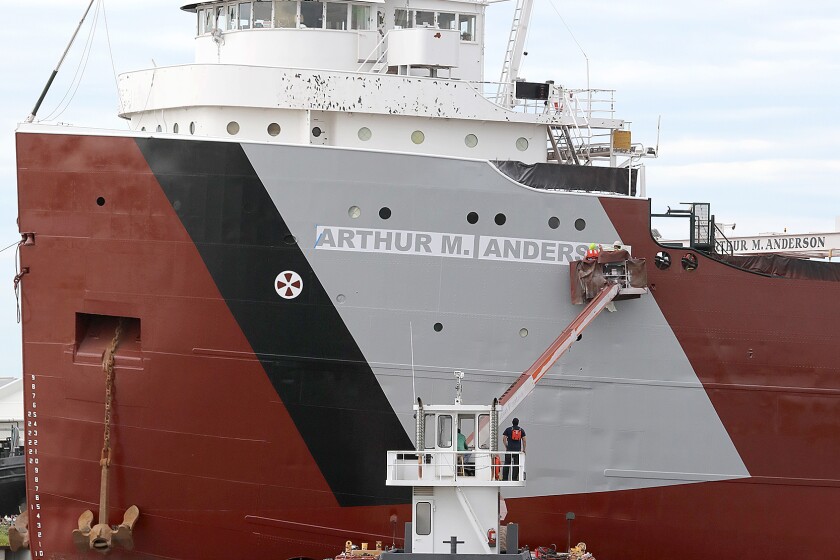 3
/
3:
Crews at Fraser Shipyard attach a stencil to the Arthur M. Anderson before painting the name on in Superior on Friday July 19. (Jed Carlson / jcarlson@superiortelegram.com)