Great Lakes Aquarium celebrates 20 years with an opossum
The new mammal is just a small part of the Duluth aquarium's 20-year anniversary celebration, which features 20 new animals, events and programs.
We are part of The Trust Project.
The next time you visit Duluth's Great Lakes Aquarium, you might find yourself seeing a few new mammals.
Mammals at an aquarium? Executive Director Jay Walker says there's a reason for that.
"There are a lot of different animals that depend on Lake Superior, and so we are showing this diversity," Walker said about adding skunks and an opossum on exhibit to teach people about the variety of animals that rely on the watershed.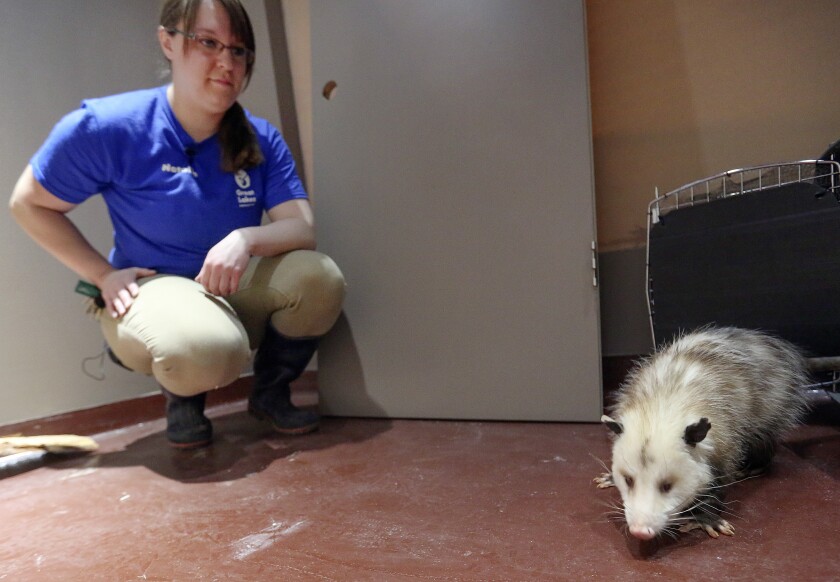 The aquarium's two skunks, Snacks and Snoops, have been mainly education animals for more than two years, but will now be on exhibit next to their new neighbor, Socks.
Socks is a blind, 1-year-old opossum who came to the aquarium from Georgia in February.
"When he was a juvenile he was found abandoned and was pretty helpless," said Natalie Riemer, senior animal care specialist at the aquarium. "They determined that he was most likely born without eyes. So he cannot see."
Because of that, Socks is considered non-releasable wildlife as he would not do well on his own out in the wild.
"That allows us to provide a home for him to live out the rest of his life, which is very similar to our birds here at the aquarium," said Riemer.
The new mammals are just a small part of the aquarium's 20-year anniversary celebration.
"We are adding 20 new animals, exhibits and programs to our facility," said Walker, who has been at the aquarium all 20 years.
A new duck pond will be opening this spring along with a new turtle exhibit. A vampire fish will be added to the "Amazing Amazon" exhibit. And in the summer, a 7-foot alligator will call the aquarium home.
The biggest change will open to visitors in the fall. The $430,000 "H20" exhibit on the main floor near the otters will feature a new Great Lakes water table and other hands-on water activities.
"(The water table) will be more accessible. It will be lower to the ground so more people can interact with it," Walker said. "Plus, we are going to be putting in a bunch of interactives all about the properties of water and how our watershed works. That exhibit is going to be really fun. I'm looking forward to that one."
The aquarium was awarded a $150,000 grant from the Minnesota State Arts and Cultural Heritage Fund to help support the "H20" project.
A birthday bash is planned for July 29 and more 20th anniversary events and programs can be found on the aquarium's website at glaquariaum.org .