Following business boom, Duluth's Lincoln Park sees housing influx
New businesses are partially responsible for drawing new housing development.
We are part of The Trust Project.
Several housing developments are on the horizon in Duluth's growing Lincoln Park neighborhood.
Garfield Square apartments recently opened; Enger Lofts, West Superior St Apartments and the former Kemps milk plant are slated for housing construction; and the Esmond Building is also being considered for housing — all of which is happening in a neighborhood with recent small business growth.
"It's the largest addition of multi-family (housing) that we've seen in a long time, especially … coalescing at the same time," said Jason Hale, senior housing developer for the city of Duluth. "We're excited to see that energy and that housing stock moving into Lincoln Park."
That housing stock will bring more people to the area, to shop, dine at restaurants and more — amenities that are partially responsible for investors' interest in the neighborhood, Hale said.
A need for housing and mostly stabilized economy — besides recent changes due to COVID-19 — also influenced investors, Hale said.
"(There's) continued demand for housing across all levels of affordability," he said. "People still have capital they want to put in the market."
Two housing developments are slated to replace and renovate two former furniture buildings.
Enger Lofts will bring 40 units of market-rate housing to the former Furniture and Mattresses 4 Less building at 1826 W. Superior St. The building's first-floor space will house retail and commercial spaces.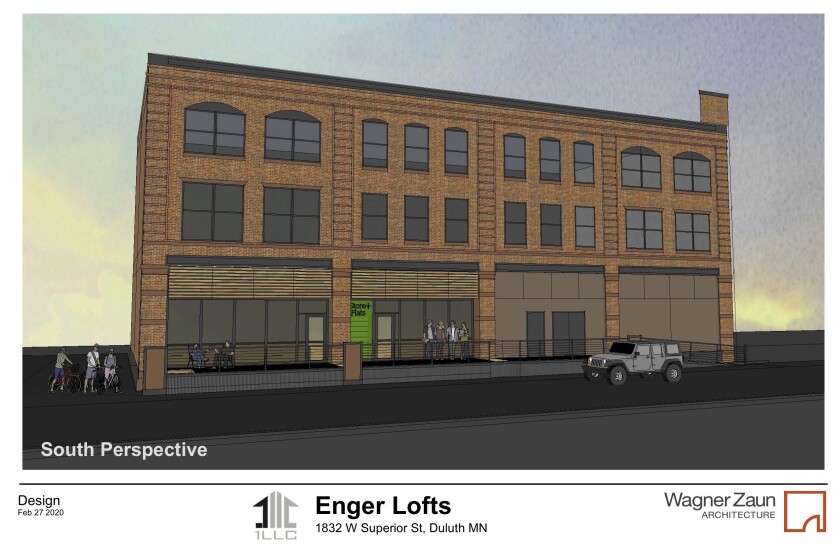 Josh Macinnes, director of development for 1 LLC, said the neighborhood's amenities drew the company to develop in Lincoln Park.
"There is a need for new, quality housing stock in our community of all types. Lincoln Park's vibrancy is contagious, and there is a demand for new housing options to be within walking distance of the incredible amenities and services in the neighborhood," he wrote in an email.
Although all units will be market-rate, he wrote they are trying to keep the units small to ensure rent is "more reasonable."
Enger Lofts, he wrote, will likely be open in June next year.
Nearby, the building that once housed Robert's Home Furnishings will be demolished. The West Superior Street Apartments, developed by Twin Cities developer Rachel Development, will take its place on the 2100 block of West Superior Street.
The four-story apartment building will bring 75 units, most of which are studio and one-bedroom apartments, according to News Tribune reporting .
Indoor parking will be tucked inside the first floor of the building, while some surface parking spots will be located behind the building, according to planning documents.
There won't be any retail space. The developer wrote in the documents that retail, office or commercial space would be far more expensive per square foot than what is currently offered in the neighborhood.
"The (developer) has stated that adding expensive retail space to a market place that has a glut of existing retail and office space is impractical and not financially feasible," planning documents read.
Rachel Development didn't return interview requests.
Several buildings that were constructed somewhere between 1890 and 1901 make up the building, and a metal facade was installed in 1979. After Robert's left, United Martial Arts and the Duluth Kennel Club have taken up some of the space.
Hale said the city needs below-market-rate housing. If either of the projects seeks public funding, he said, some affordable housing units will have to be included in the projects.
Another property near the Lincoln Park Craft District is likely to see new life, as well.
Northridge Accommodations, a Grand Forks, North Dakota, developer, purchased the old Kemps dairy plant on the 1900 block of West First Street late last year.
The developer plans to clear the industrial site, remove contaminants and build a 100-unit multifamily apartment building with retail space on the first floor, said Ryan Carlson, executive vice president and chief operation officer for Northridge.
"We've been in the Duluth area for several years, but we're interesting in the Lincoln Park perseverance and redevelopment," Carlson said.
He said they've already received proposals from local contractors to do the demolition, and they may break ground this year. It will take 12 months to build it, so the apartment could be finished next year.
The property been vacant for seven years, according to News Tribune reporting.
One block away, the Esmond Building project is at a crossroads.
Most residents from the Esmond, formerly known as the Seaway Hotel, moved into the recently completed Garfield Square apartments at 10 Piedmont Ave.
The Duluth Housing and Redevelopment Authority currently owns the building, which has been flagged for several violations, according to News Tribune reporting .
HRA has proposed to sell the building to Minnesota Opportunity Zone Advisors LLC., which has a goal to redevelop the building into a 30-unit apartment building with 8,500 square feet of space for commercial use on the ground floor.
Before redevelopment can happen, the MN-OZA seeks to forgive both a $230,000 Duluth Economic Development Authority loan and a $1.1 million Minnesota Housing Finance Agency loan.
The developer is inspecting the building and has plans to redevelop it, a statement from the city of Duluth reads.
Hale said he talks with developers nearly every day about new housing projects, and thinks the neighborhood will see more housing. But they face challenges with finding available land because much is already occupied or contaminated.
"(There's) lots of green spaces in the city, and we want to preserve (it)," he said. "That's one of the lovely things about living in Duluth."
This story originally misstated the results of the preliminary analysis of the Esmond Building. The building is salvageable and the developer has plans to redevelop it. The News Tribune regrets the error.