Enbridge Line 3 gets construction OK; needs stormwater construction permit before work can begin
The move comes one day after the U.S. Army Corps of Engineers issued a separate key permit.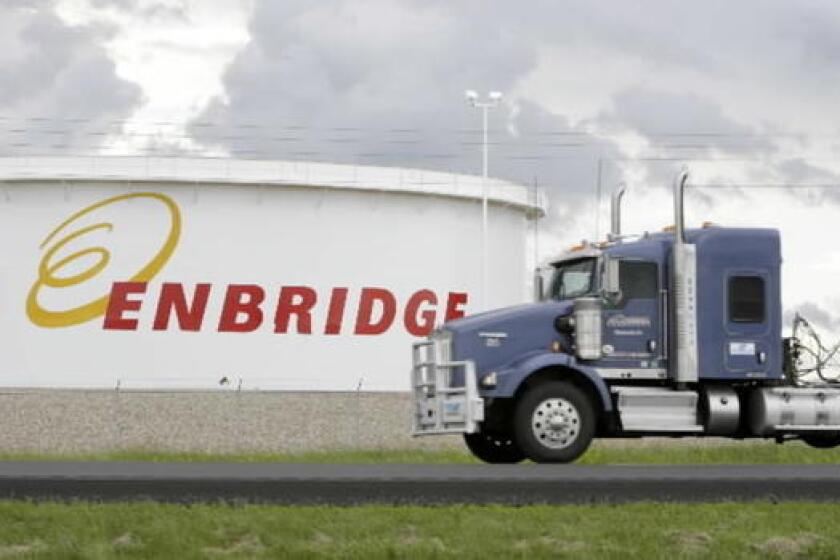 The Minnesota Public Utilities Commission granted Enbridge's controversial Line 3 oil pipeline project the authorization to construct, leaving just a stormwater permit to be approved before construction can begin.
In a letter filed Tuesday, PUC Executive Secretary William Seuffert told Enbridge officials that PUC staff had agreed the company had submitted the necessary preconstruction documents required by the project's route permit. The PUC in February voted 3-1 to approve Line 3's route permit , and the order was issued in October.
"Commission staff has advised me, and I agree, that the compliance documents submitted by Enbridge, as identified in this letter, are in general agreement with the terms and conditions of the October 26, 2020 Pipeline Routing Permit and that Enbridge has complied with the pre-construction compliance filing requirements," Seuffert wrote.
Seuffert noted Enbridge still needed to file the name and contact information for the project's tribal monitor.
In its preconstruction compliance review earlier this month, the Minnesota Department of Commerce's Energy and Environmental Review and Analysis department also noted that filing was needed by Enbridge, but it sent its recommendation without it to help ensure construction can take place in winter.
"(Energy Environmental Review and Analysis) generally waits until all required filings are received before commencing its preconstruction review," Andrew Levi, environmental review manager, wrote in the Nov. 12 letter. "However, given the strong desire of the Department of Natural Resources and the Pollution Control Agency for the permittee to utilize winter construction to mitigate impacts, staff is filing this letter although there is a single filing outstanding."
Enbridge is hoping to begin construction on its $2.9 million, 340-mile pipeline by the end of the year. Once construction begins, it should take six to nine months to complete. Once complete, the pipeline will replace the existing, aging Line 3 and ferry 760,000 barrels of oil (31.92 million gallons) per day from Alberta, Canada, to Enbridge's terminal in Superior, following a new route through much of northern Minnesota. The segments in Canada, North Dakota and Wisconsin are already complete.
"With this construction authorization from the Minnesota Public Utilities Commission, just one final permit is needed for replacing Line 3, an essential maintenance project that will better protect Minnesota communities and the environment," Enbridge spokesperson Juli Kellner said in a statement Tuesday.
The project still needs a stormwater construction permit from the Minnesota Pollution Control Agency. The MPCA has until Dec. 23 to issue the permit, or 30 days after the U.S. Army Corps of Engineers' Tuesday approval of Line 3's water permit.
Opponents of the pipeline — environmental groups, the White Earth Band of Ojibwe and the Red Lake Band of Chippewa Indians — have vowed to continue fighting the project in court and have long argued the risk of a spill is too high and the pipeline increases reliance on fossil fuels at a time when people should be moving to renewables to combat climate change.