Duluth planning commission signs off on tall luxury waterfront condo development
The developer needed a variance due to the height of the proposed building.
We are part of The Trust Project.
Plans to build a 55-foot tall condominium in the 2200 block below East Water Street moved ahead Tuesday night, when the Duluth Planning Commission voted 5-2 to grant a height variance for the high-end development.
Typically, the maximum allowable height for a structure on a property zoned for R-2, high-density residential development is 45 feet.
But Jenn Reed Moses, a senior planner for the city of Duluth, explained that due to the rocky geography of the site, its compact footprint and the desire to accommodate parking underneath the condominiums, the would-be developer of the 16-unit condominium building, dubbed The Breakers , had demonstrated a practical difficulty in staying below the prescribed maximum height.
But Planning Commissioner Zandra Zwiebel remained unconvinced. She noted that the proposed condominiums exceeded the contentious nearby Beacon Pointe Resort in elevation.
She questioned why the building could not be reduced from four to three stories to remain compliant with existing height restrictions and to avoid the public backlash Beacon Pointe unleashed when it went up, obscuring local lake views.
"Personally, I feel that Beacon Pointe was one of the biggest mistakes that this planning commission ever made. And just because we made a mistake in the past, I don't think we need to make another," Zwiebel said.
But the development team — led by Sandy Hoff, Mark Boben and Alex Bushey — maintained that for financial reasons, the project could not reasonably be downscaled. The posh condominium complex is expected to offer units ranging from 1,750 to 2,900 square feet in size and priced from around $900,000 to north of $2 million apiece.
Commissioner Andrea Wedul also questioned the height between floors, noting that it exceeded 12 feet, and even factoring in the 1 1/2-foot depth of structural steel and concrete it allowed for 10-foot ceiling heights.
She suggested that if those ceiling heights were lowered, the building would require much less of a variance, if any.
"Not to dive into too many details, but when we're looking at pushback from the community, can we take that to an 8-foot ceiling height to make it fair and and just, related to the adjacent developments," Wedul asked.
But again, the developers said that would not be an acceptable modification for such a project.
Pointing to the widespread public dissatisfaction with the height of the shorter Beacon Pointe development, Zwiebel moved to deny the requested variance.
"I've just have lived here too long and heard too many complaints and feel that I need to represent not only myself but those people in the city who are really unhappy with that situation," she said.
Both Zwiebel and Wedul moved to table the variance request, but the motion failed 5-2, with Commissioners Jason Crawford, Gary Eckenberg, Margie Nelson, Michael Schraepfer and Sarah Wisdorf voting to approve it instead.
Adam Fulton, deputy director of Duluth's planning and economic development division, said: "I think the hard part on this site is that it is close to the lake, and it certainly has all of the baggage that is carried by the other development that really was, as I understand it — and I did not work here at the time — very contentious."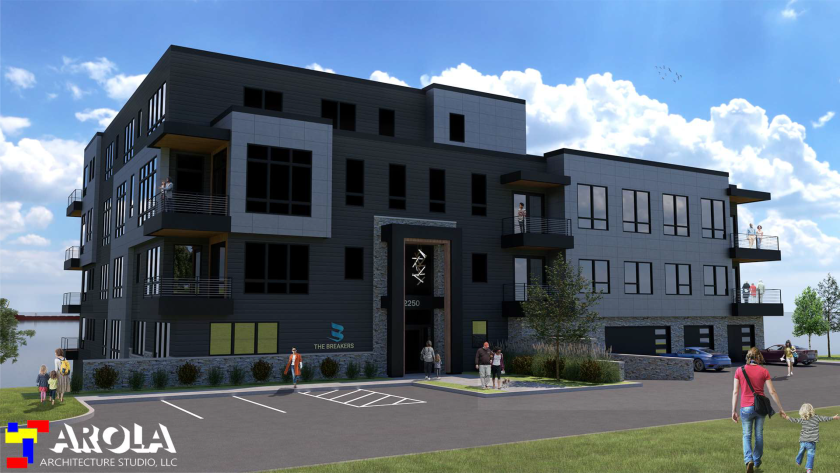 "This site also has a disadvantage in that it has been a grass field that was mowed. So, when you come down the corner from 21st, you come down the big ramp, and certainly the ramp is significantly higher than 45 or 55 feet," he said.
But the view of the lake from Water Street would be dramatically changed, Fulton acknowledged, citing the rise in elevation moving inland from the lake.
"So, I don't think, when it comes to viewshed, that this is a simple site, because I don't think a building variance of 10 feet is going to ruin the viewshed from Water Street. And that is the only viewshed it's going to impact. It is not going to impact uphill viewsheds. It is certainly going to change how the city looks if any structure of any height is built on this site. But unless we start talking about a structure that is substantially greater than what is proposed, it does not impact the views from uphill of the lake," he said.
Commissioner Schraepfer agreed.
"I feel like building in this city is always hard, and it's a challenging thing to come up with projects that make sense," he said, noting the difficulties of dealing with often-steep grades.
"So, I think it's worthwhile to be flexible when it doesn't really — like Adam's saying — affect someone's viewshed," Schraepfer said.
1
/
2:
Gary Meader / Duluth News Tribune
2
/
2:
The Breakers, a development proposed for Water Street in Duluth, would stand 55 feet tall and would require a variance. Contributed / Arola Architecture Studio