Duluth maker's wood-burning business is fire
Erin Welch of North Country Craft sold more than 2,500 travel cribbage boards last year. Her customers reported taking theirs to India, Australia and along the Appalachian Trail.
DULUTH — Erin Welch pinches the fat cork gripper of her soldering iron. Smoke rises in tight curls as she lightly guides her instrument in vertical lines, burning the northern lights into the cream-colored meat of a bark-edge wood board.
Her tool is like a hot pencil and the process is similar to tattooing, said Welch. "Once it's burned in, it's burned in."
Welch operates North Country Craft , her Duluth-based business specializing in custom wood-burned works.
Her goods are inspired by Northland scenes, and her top sellers — sold at Frost River Trading Co. in Duluth, Jay Cooke State Park in Carlton, and stores in Grand Marais and Juneau, Alaska — are dedicated to a Midwestern staple: cribbage.
Welch's travel cribbage boards boast wood-burned agate and aurora borealis designs.
She constructs each by hand, sandwiching them in Pendleton wool, which she sews in her Duluth apartment. Many are stained in layers of her hand-painted watercolors.
Welch sold more than 2,500 boards last year, and her customers reported taking theirs to India, Australia and along the Appalachian Trail.
Cribbage boards are a blank canvas and a functional piece of art, she said. "It's simple, but it brings people together," she said.
Cribbage is a rite of passage, said Eric Friberg, of St. Paul. Friberg is a repeat customer of Welch's travel boards and watercolor works.
It's one thing to make cribbage for your friends — it's another to mass produce them and maintain this high-quality art, he said.
Welch grew up playing cribbage with her grandparents, who live five minutes from the University of Minnesota Duluth. It became routine for her to play during visits and breaks from class.
She "came to love it" after all the time spent playing it with her grandfather, Dave Welch, a retired Duluth firefighter.
The seed of her business started when she drilled holes in an unused cutting board to make herself a cribbage board. Soon after, she dusted off an old soldering iron from high school.
To round them out, she used leather scraps from a Minnesota surplus supplier and leftover wool from a Duluth outfitter, sewing and completing each by hand.
It "snowballed," Welch launched her Etsy shop and she got a cribbage board tattoo the day she quit her desk job to pursue her business full-time.
She's come so far from the first few boards to now wisely making bulk batches of her unique designs — all by herself, said friend and former colleague Adam Fleischhacker.
Today, Welch bulk-buys Tandy Leather, Walnut Hollow bark edges and Pendleton wool.
Her large laser cutter and wood-cutting tools are stationed at her parents' Saginaw home, where she bulk-cuts, lasers and drills her pieces before driving them back to Duluth for staining, burning, painting and assembling.
Freehand drawing with the soldering iron is a meditative process that's slower than normal writing. Welch doesn't know how hot it gets, but she has been burned in the past, and "you definitely don't want to touch it," she said.
The tool comes with different tips for shading or outlining, and you have to be methodical, paying attention to the shading and values of each stroke, she said.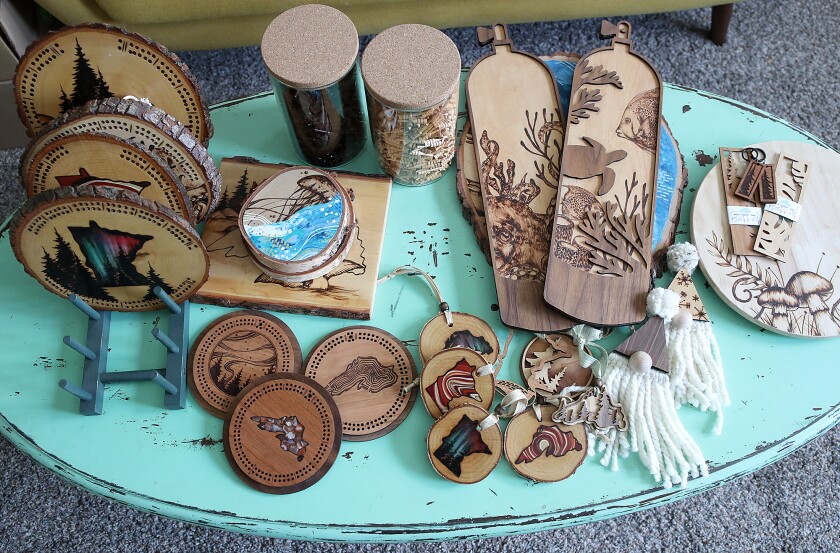 Welch also designs and cuts earrings, keychains, bookmarks and larger boards featuring engraved paddles, anchors, fish hooks and canoes. This month, she unveils her latest item: a set of hand-sized circle boards with Lake Superior in the center.
But they won't replace the portable cribbage boards. "They're the bread and butter of my business," she said.
Where to find North Country Craft
St. Mary Star of the Sea Catholic Church hosts pie social from 2-4:30 p.m.