Duluth leaders bullish on future of labor movement
The annual local Labor Day Picnic provides an opportunity for reflection on organized labor's recent gains.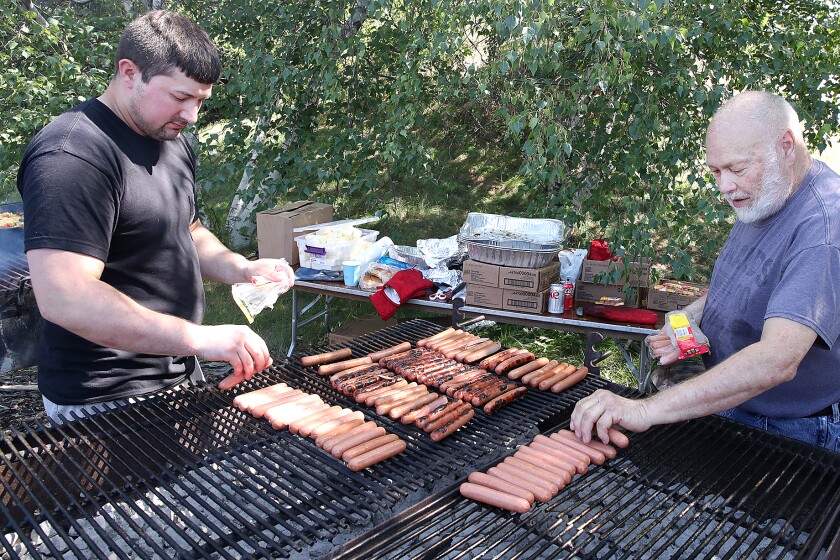 We are part of The Trust Project.
DULUTH — Buoyed by recent developments, a diverse cast of union members and their supporters struck a largely upbeat tone, as they gathered Monday afternoon for the Duluth Central Labor Body's annual Labor Day picnic at Bayfront Festival Park.
They had reason to celebrate. A recent Gallup poll showed 71% of Americans approve of unions — up from 64% the previous year. That latest approval rating also is the highest level of support recorded since 1965.
"It is a watershed moment for organized labor," said Lee Cutler, an organizer for the Northeast Area Labor Council.
"You're seeing all these new workplaces popping up to be organized, between businesses like Starbucks, Half Price Books and Trader Joe's. Youth are really understanding finally what they get with organized labor and how they can improve their future if they join a union," he said.
Some may attribute the growing strength of organized labor primarily to worker shortage brought on by the pandemic, but the strain of dealing with that health crisis really only served to accelerate a power shift that was already developing, said Monica Haynes, director of business and economic research for the University of Minnesota Duluth.
"It might seem to many people that this is a new thing brought on by the pandemic, but actually a labor shortage was developing prior to the pandemic, just not to the same extreme level," she said.
Haynes said the pandemic prompted many people to rethink their work preferences and likely caused some folks who were nearing retirement to push up their exit plans.
Cutler said the pandemic also strengthened interest in organized labor.
"A lot of people kind of stepped back, looked at their working conditions and realized how a union could help them," he said.
About 17% of Minnesota workers are represented by unions. The state is one of the more organized workplaces in the nation, with the Bureau of Labor Statistics reporting that the national average for union membership was 10.3% of workers in 2021.
Until recently, many employers had access to a relatively plentiful supply of workers, Haynes said.
"The scales had been sort of tilted toward businesses, and the supply of labor had been very healthy. But now, with the tilt kind of going the other direction, I think people are starting to realize how valuable workers are and how it might be worthwhile to pay attention to their demands and desires," she said.
"A lot of different companies are facing votes to unionize, and workers are realizing they have more bargaining power. So, that has kind of trickled into the consciousness of society," Haynes said.
Dan Hartman, executive director of the Duluth Entertainment Convention Center, agreed workers hold a stronger hand today than they did prior to the pandemic.
"As an employer, I'd say employees have never had this level of leverage in my lifetime. And I think that's a great thing for employees. People realize how bad everyone needs employees," he said.
Against that backdrop, organized labor has started to flex its muscle a bit, as Cutler noted, pointing to an impending strike by the Minnesota Nurses Association.
"Right now we're preparing for one of the largest labor actions in Minnesota's history, with 15,000 nurses ready to go on strike here. I think that says something, because even a couple of years ago, that would never have happened," Cutler said. "We have the eye of the nation right now."
St. Louis County Commissioner Patrick Boyle referred to the situation as an "unprecedented moment in our lifetimes."
Boyle works as a nurse practitioner for the Fond du Lac Band of Lake Superior Chippewa, and while he is not poised to participate in the pending strike, he expressed his sympathy for his peers in the profession.
"Our hospitals have struggled with capacity since the pandemic, trying to handle a difficult situation safely, and we need to retain our nurses to do that," he said.
Cutler said an event such as Duluth's annual Labor Day picnic illustrates the varied tapestry of organized labor in the Northland and helps build appreciation for all that union members contribute to society.
"We have nurses, teachers, steelworkers, carpenters and laborers all helping out and enjoying the day. This is a day to celebrate labor and our workforce. It's a time to offer a little 'thank you' for all the work that folks do throughout the year," he said.
Senior guard scores in myriad ways as Bulldogs win 18th straight home game.