Duluth company launches luxury-cabin kits
Customers can build a 420-square-foot cabin from a Cedar Bound cabin kit.
A new Duluth business has created a unique way to obtain your very own custom cabin.
Cedar Bound offers kits for building personalized, luxury cabins. The company launched last week, and its owner says "glamping" — glamorous camping that has creature comforts like electricity, beds and more — is a growing industry in the U.S.
Cedar Bound's buildings resemble both tent and cabin. The canvas roof is modeled after a tent a pioneer would use, while its two-story structure is similar to a cabin. There's a vinyl canopy that stretches across the top for protection from rain and snow.
Owners can furnish the building however they would like. Plumbing and electricity are optional, as equipment and parts needed to install them aren't included in the kits.
"It's for those who are not looking to build a full-fledged home but they want something that's still nice and feels like a luxurious getaway. But at the same time, our structures can also be kept really rustic and simple depending on personal tastes. There's a whole spectrum," co-founder Bailey Aro Hutchence said.
Aro Hutchence founded Cedar Bound with her husband, Joe Hutchence. It has taken almost two years to get it off the ground. Joe Hutchence did the design and engineering, while Aro Hutchence focused on the creative and marketing side of the business. She has experience in this, as she also runs a photography business and gift-box company, which have prepared her for the challenges of the new business.
"I think the more you do it … you get more comfortable and you get stronger and you're able to endure setbacks," she said. "It's never easy, but … those challenges get easier to navigate the more you do it."
Camping has played a role in the couple's relationship, influencing their business idea, Aro Hutchence said. The couple met at a summer camp and have taken numerous trips together.
"That kind of shaped this idea of creating something cool and unique, (something) that people could go visit and kind of have a getaway," she said.
Their business didn't start as a luxury cabin kit one. Instead, they planned to launch a "glampground," or a campground for "glamourous" camping. They had purchased land, created a business plan and were communicating with local government about their plan — but the project was unexpectedly denied, Aro Hutchence said.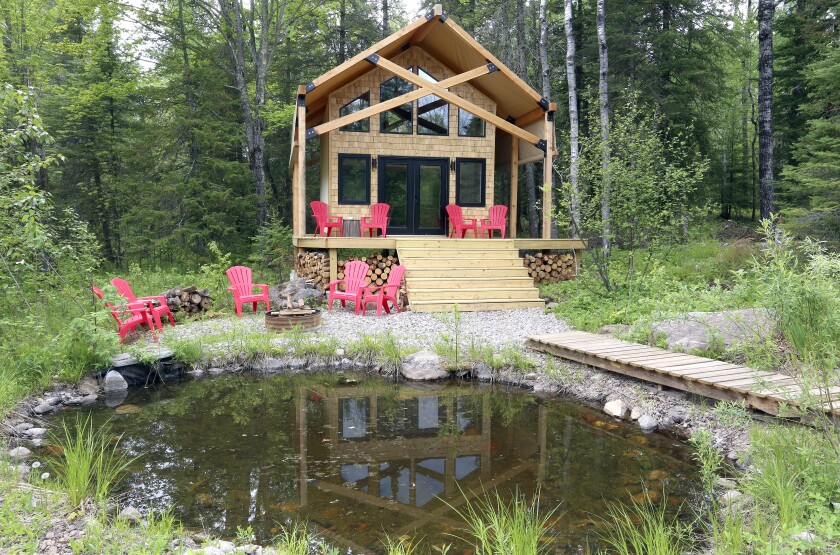 They took the opportunity to pivot their business model, "and we've never looked back," she said.
Aro Hutchence envisions the cabins being used at ski resorts or glampgrounds, as well as by property owners buying a cabin for property up north or being used as vacation rental properties.
"The goal is to have something that felt like a blank canvas, pun intended, (where owners) can put their own spin on it," she said.
It takes roughly a small crew of people and up to a week to put together a 420-square-foot cabin. Building it may be easier for those who are familiar with do-it-yourself crafts and tools, but the company will also recommend contractors who can help build, Aro Hutchence said.
There are several cabin kits, each with a different budget and required skill level. Its basic kit, for example, includes the canvas roof, side walls, the vinyl canopy, hardware, brackets, a list of needed lumber cuts, and a list and cuts for the front and rear gable ends. On the higher end, its luxe kit includes pre-cut and pre-drilled lumber as well as insulation to make the cabin all-season.
Eventually, they hope to offer construction services to help customers build their custom cabins.
'We're just excited to see where these end up, because we've had a lot of interest," she said. "Everyone has their own … vision for what they could be and that the fun part that keeps us looking forward."