Can I bring my dog? New guide lists Northland's pet-friendly hot spots
Love Creamery and Gordy's Hi-Hat are among area spots featured in DogApproved.biz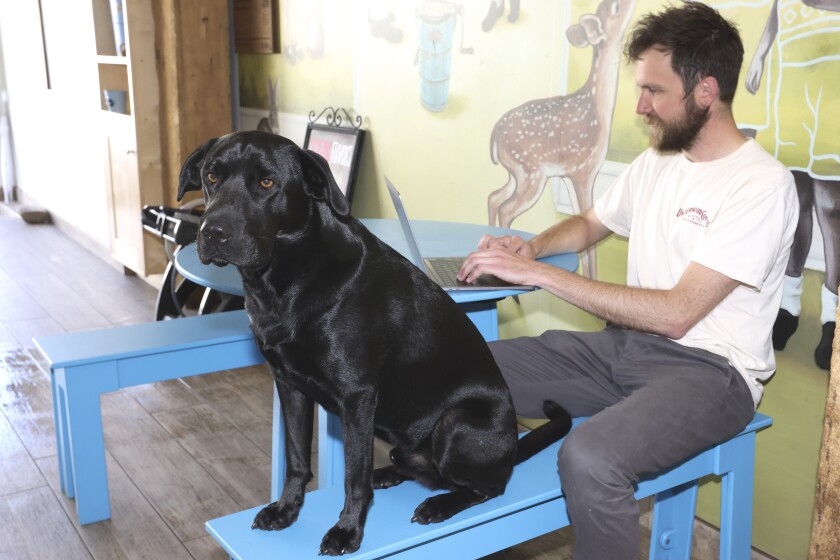 DULUTH — Going pet-friendly wasn't a business strategy Nicole Wilde planned on, but it's worked out. "I did it because I wanted to see dogs everyday. It was super selfish," said the Love Creamery owner and ice cream maker.
At the Lincoln Park and Canal Park shops, it's common to spot dogs, cats and an occasional parrot in the lobby, slurping a water dish out front or lapping up a bone-shaped treat.
And resident house dog Finn makes regular appearances with his pet, shop manager Michael Stenzel.
"It's as joyful for us as it is for the dog owners," Wilde said of herself and her staff.
"Animals are part of the family, so why wouldn't you be able to take them wherever (you go)."
It's not new for Northland businesses to allow pets, but having them all listed in one place is.
Dog-approved businesses in Duluth, Superior, Cloquet, Two Harbors and more are now featured in the soon-to-be released Dog Approved Biz , an all-things-dogs website and guide highlighting parks, services, events, tips and more in the western Lake Superior area.
Matilda's Dog Bakery and Boutique , Bent Paddle, Cedar Coffee Company in Two Harbors, The Social House in Hermantown are among the businesses accepting visits from four-legged guests and their owners.
After four pet-welcoming years in business, Love Creamery has only positive things to report.
They haven't had issues with misbehavers, barkers or ice cream thieves, said Wilde, and they've garnered a stable of regulars.
A Newfoundland named Andre the giant. A bulldog named Lisa.
Irish setters, French bulldogs, huskies, Shetland shepherds, chihuahuas. Like people, they become consistent on what days and times they stop in.
Asked about the Northland's new dog-friendly guide, Wilde said, "It's so great because now you're making a movement."
DogApproved.biz is the brainchild of Duluth native Linda Nervick.
During a trip to Palm Springs, California, she spotted dogs on nearly every patio, and saw an opportunity in the Northland.
Since January, the publisher of resident guide TwinPorts.com , has been building a new resource for locals and visitors. She reached out to area businesses and connected with Duluth designer Brian Barber to create the logo, which some businesses are already sporting on their front doors.
Online, DogApproved.biz lists a stream of upcoming events — yappy hour in the Fitger's courtyard; a microchip clinic in Cloquet; "dog happy music" on Superior's Spirit Room patio.
The printed guide is in its final stages before distribution later this month, when it'll be available at hotels, newsstands and spots like A Place for Fido and the newly opened Minnesota Nice Dog Company.
While Nervick is currently dogless, she grew up with them and understands the appeal.
"People light up when you talk about dogs. It makes me so happy when I'm around them," she said.
Being more dog-friendly is a growing trend, and Sever Lundquist likes to think they were on top of it. "We're dog people ourselves. That's important to us," said Lundquist, grandson of the Gordy's Hi-Hat patriarch.
Cloquet's drive-in is a halfway point for many north-bound summer travelers, and incorporating a dog park four years ago was a sound investment.
Lundquist noticed folks walking their pets around the edges of the lot on Gordy's 2.5 acres. He decided to repurpose what were overgrown weeds into a spot for dogs to stretch their legs.
They got commercial mowing equipment, added fencing, gazebo-covered seating and tables. There's now a 200-by-50 foot dog park and spots for pet owners to dine nearby.
"Having a dog-approved business goes a long way in Minnesota," said Lundquist.
It's common for folks to order French fries, single-patty burgers and pup cups (soft serve ice cream with a Milk Bone) for their dogs. And, Lundquist has seen his fair share of service animals onsite.
"You wouldn't believe how many of these dogs, they know when they come through the parking lot, they get excited … they're about to get a treat," he said.
Lundquist hasn't seen challenges to hosting the dog park or to allowing dogs on their patios, which they have for years.
People know their pets. If one is food-aggressive or territorial around other dogs, they know how to handle that, and it has never been an issue, he said.
Some businesses aren't able to provide this for patrons; it makes sense at Gordy's and it's a good way to drive business.
"Making it feel like a family-inclusive environment — that, at the end of the day, is our main goal," he added.
Little Waldo Farm will host a plant sale from 10 a.m.-1 p.m. Saturday.