Brule family turns remodeled homestead into wedding venue
The Clemmers are the second family to own the land since it was homesteaded in 1864. The farmhouse had been vacant and in rough shape when they bought it 37 years ago.
We are part of The Trust Project.
BRULE — Jill Clemmer didn't need to walk the property to know she wanted it.
She and her husband, Kirk, lived a mile away from the 80-acre homestead that always caught her eye on South County Highway H. Soon after hearing about its "for sale" sign, they "stopped at the Realtor and put down $100 earnest money," she recalled. "Then, we came to see it."
With that, a signed contract and a $20,000 loan, they purchased what has been theirs for nearly 40 years. "Luckily, we had $100 to our names at that time," Clemmer said.
The Clemmer land is now the site of the Brule River Barn event center, where folks can rent the grounds — complete with a barn, a four-bedroom farmhouse and a one-level cottage — for weddings, graduations and other celebrations.
It started as a labor of love.
The couple renovated an old dairy barn for their daughter's nuptials, a process that included a fair share of unpleasant obstacles. "It was full of rotten crap; the ceilings were falling in; the raccoons had been in here," she said.
They updated the electricity, created a first-level dining area and a dance floor upstairs.
The shift was so momentous that after the ceremony, folks encouraged them to take their investment to the next level. Soon after, their daughter created a Facebook page, and the Brule River Barn event center was born. Six years later, Clemmer called this work "a nice passive income."
The Clemmers are the second family to own the land since it was homesteaded in 1864. The farmhouse had been vacant for five years, ransacked and in rough shape when they purchased it 37 years ago, recalled Clemmer.
Fourteen dumpster loads later, the couple was able to remove doors and walls, siding and the chimney and start the process of building it back up. The family of five lived in what's now the cottage as they renovated the main house.
The main floor, which used to consist of five smaller rooms, now houses two sitting rooms, a river-rock fireplace and an open concept kitchen. The primary bedroom is off of their former hot tub deck which is now a screened in porch.
Exposed square-log walls run throughout, and they added two fire pits, three outdoor porches and three ponds.
The kitchen has seen the most work. Its current iteration features a wall of windows, tall cabinets and a large, white Dacor refrigerator. The stove is where the front door used to be, she said.
Upstairs holds the bulk of the bedrooms and a washroom. The latter is covered in white tile and weathered heather gray wood with an added tub, so their granddaughter could use it during a visit.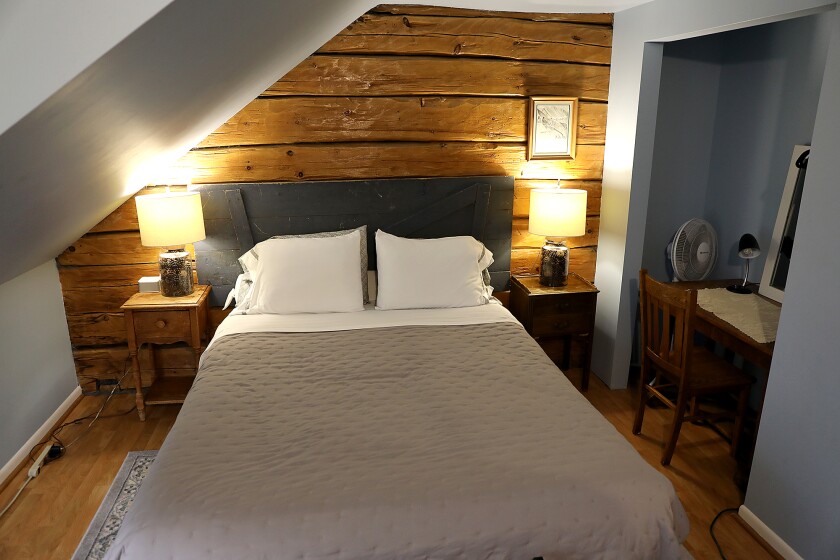 The bedrooms are flush with built-in storage, sliding barn doors, soft blue walls, a set of bunks and headboards made of wood from their old sauna.
Clemmer did all the deconstruction, and her husband, Kirk, a self-employed contractor, did the construction. "Good thing we were young and dumb," she said.
Neil Clemmer was 10 when his parents purchased the land. It was a shift moving from a log home without a yard to the homestead with lots of space to run, he said.
Jill Clemmer created and hung a photo collage in the primary bedroom showing pictures of the house in 1903, the day they bought it, as well as black and white photos of hers and Kirk's parents and grandparents.
The homestead formerly served as a bean, strawberry and dairy farm, and its unique history has paved the way for its present.
Formerly a post office, bar and church, the summer kitchen is now equipped for catered food, rehearsal dinners and more. Lining its shelves and walls are rows of old, rusted egg beaters, sheep shearers, oil lamps and washboards.
Jill Clemmer moved this structure, log by log, down the road with her son. "There wasn't one nail in it. Now it's screwed and nailed within inches of its life. It's never going anywhere now," she recalled.
The former Milk House still bears its name on a sign above the door, but it's now used for the wedding party to visit and get dressed.
Nearby, the one-bedroom cottage boasts a retro theme distinct from the farmhouse with a red, 1960s-era dining set and a seafoam-styled bathroom.
Clemmer found the stove for $50 in the newspaper 25 years ago. "It still works like a charm," she said.
One challenge to this work is Airbnb stays aren't for the faint of heart, Clemmer said. It takes time getting used to mostly strangers walking into a space you've called your own for so long. For now, it's worth it.
When folks leave, she goes straight for the guestbook to read their feedback, relishing positive and kind words. "I come running to see what they wrote," she said.
And based on this summer's dance card — only a few available days pepper the schedule through July — the props should keep coming.
And, while she's the face of the business, Jill Clemmer says this is very much a family affair.
Her daughter-in-law manages the website. Her oldest son adds his legal hand, reviewing business insurance and contracts. Her son-in-law pitches in his accountancy expertise. Her younger son recently helped build wedding pews.
Also, part of her collective Mother's Day gift is working on whatever large project she has planned, said Neil Clemmer.
While she sees herself winding down eventually, she's one of a kind.
"My mom, she never sits still," Neil Clemmer said. "She's always got new ideas for cabinets and color schemes, carpeting and carpentry.
"It's hard to find someone to replace her ability to make people's weddings and stays feel special," he said. "I'm very proud of her."
More information about the Brule River Barn, visit bruleriverbarn.com.
The Johnsons and a hired "army of high-schoolers" deconstructed and rebuilt what is now the Atrium, a sought-after wedding spot, already fully booked for 2023
With regular sightings at farmers markets and Fall Fest, along with upcoming showings in Duluth and Two Harbors, her small business is flourishing.
"Gratitude makes it that everything is enough," said Carolyn Ripp, of Nest Wellness Studio in Cloquet.
"You will see Peace Church people out in the street, protesting and in council meetings working for policy change — and also having fun, too," interim Pastor Jim Mitulski said.