Blue-collar barrier: Union carpenters strive for infection-free hospital construction zones in Duluth
By training everyone from members to hospital workers in infection-control practices, union carpenters have earned the trust of Essentia Health as it embarks on its hospital expansion.
Appearing more like hospital workers, clad head-to-toe in protective gear, a handful of apprentice carpenters scrambled over a mock hospital room inside the carpenters union hall in Hermantown last week. Their tool belts were the only giveaway they built for a living.
Using sheets of poly, they were sealing the room like an envelope, so nothing microscopic and bad for human health escaped their construction zone.
"We don't want somebody coming to the hospital and, because we're careless with our work, they end up catching an infection," said Porcha Shadd, 26, of Duluth.
The carpenters-in-training were taking part in 24 hours of Infection Control Risk Assessment (ICRA) training. They learn to seal rooms, filter the air, seek out contaminants such as mold, and generally work to curb health risks associated with construction debris and dust.
It's training the North Central States Regional Council of Carpenters has been conducting system-wide since 2008. Every year, 600 union carpenters in the six states of Minnesota, Wisconsin, North and South Dakota, Nebraska and Iowa are updated, with more than 3,400 members carrying an active training card, sources said.
In Duluth, a billion dollars worth of hospital expansion and construction across the next few years began in earnest last fall. The work promises between 4,500-5,000 construction jobs. Some folks will start and graduate their four-year carpenter apprenticeships doing work on a hospital project.
"Hospitals seem clean, but can be among the filthiest places on earth," said the St. Paul-based Jayson Karas, business representative and ICRA facilitator for North Central States. "Open up a wall cavity or do any type of alteration, you're going to expose who knows what is inside that cavity."
Union carpenters are doing "a lot" of hospital work, in which they're bringing infection control practices onto job sites throughout the Twin Cities metro area and greater Minnesota.
"In the metro area, it's 100% our carpenters doing the work," Karas said. "In Duluth, at Essentia, too. I also work closely with Mayo (Clinic), and Mayo is 100% this."
The training is not yet industry standard or required. Though voluntary, it's embraced by the local union carpenters and appreciated by Essentia Health. McGough, the contractor on Essentia's $800-million private Vision Northland expansion in downtown Duluth, has committed to the standard.
"I would love to see that be the industry standard," Kari Russell, infection prevention manager at Essentia Health, said. "It's extra work and not always a lot of fun, but it does help them become a better partner of ours, knowing we're on the same team."
The union brought an abbreviated eight-hour infection control training to Essentia's maintenance and facilities staff, some organizational leaders, and other contractors that will be working the construction site along the 400 block of East Superior Street. External training is one of the union's biggest growing businesses, union spokesperson Richard Kolodziejski said.
"We're running a lot of people through," Kolodziejski said. "Up here, it's big because of the hospital presence."
The external outreach builds cohesion and understanding among all the players, multiple people said.
It's a far cry from days of yore, said Bill Cich, of Superior, a retired carpenter and temporary instructor at the Hermantown union hall. In the 1970s, Cich said carpenters would put up a hard wall to control pedestrian traffic and keep people out of work zones. No thought was given to controlling germs or infection-causing agents.
"This evolved around people getting sick and finding the answer to it," Cich said.
North Central States' infection control program originated in Minnesota when carpenters took on a project at St. Joseph's Hospital in St. Paul in the 1990s. It's only expanded from there.
According to the Centers for Disease Control and Prevention, 1 in 25 U.S. hospital patients is diagnosed with at least one infection related to hospital care. Five percent of that is attributed to construction, Karas said.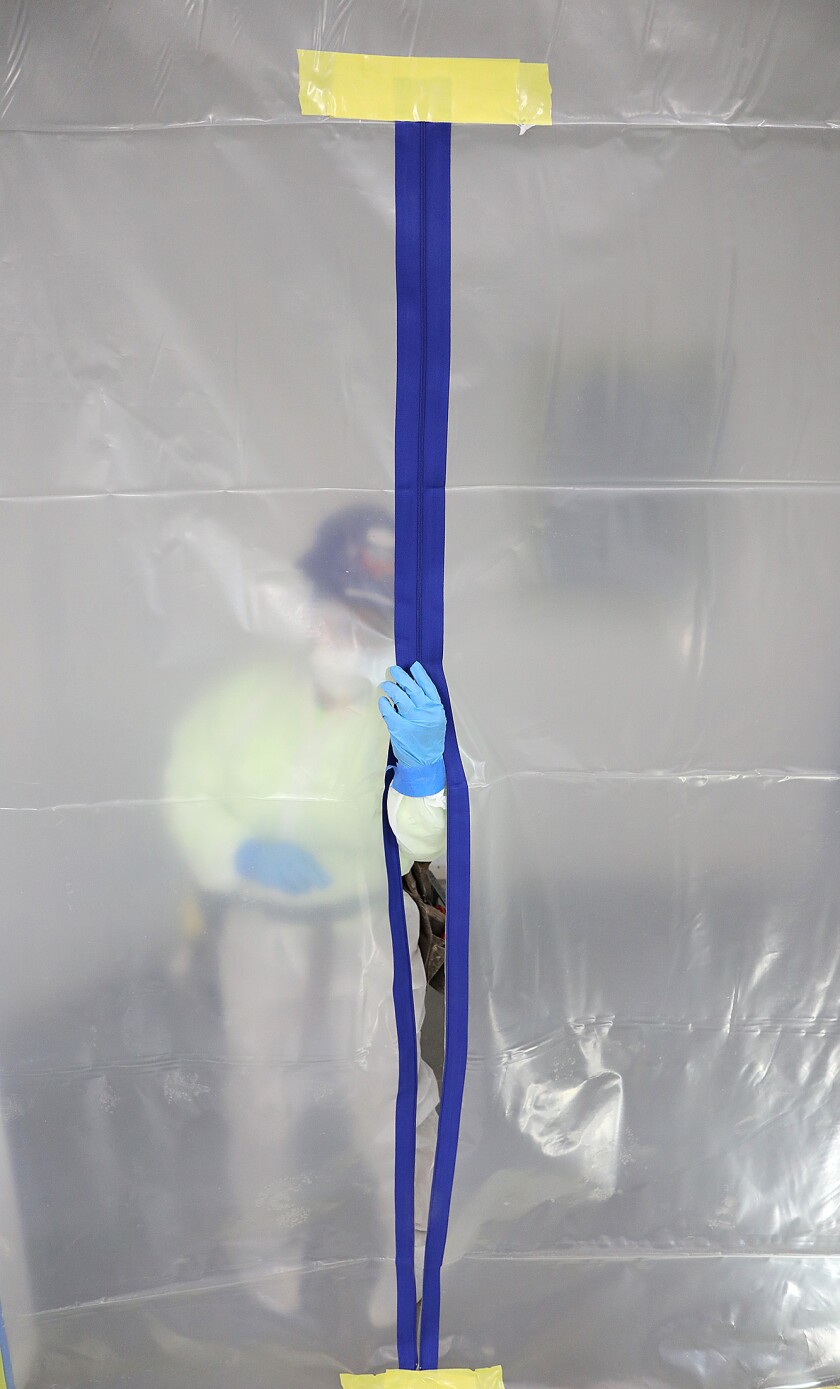 "It's making a difference," he said, citing how the federal government leverages the standards onto hospitals that receive Medicare or Medicaid funding. Lack of follow-through can mean fines for hospitals that receive federal funding, he said.
Nearby, St. Luke's hospital is preparing to put out for bid the first work associated with the $249 million update to its downtown medical campus. The hospital declined comment for this story.
Most of Essentia's 14-story hospital tower is new construction, Russell said. But there will be facility tie-ins with the Duluth Clinic, 420 E. First St., meaning they'll be working nearby people who are immunocompromised. Expect to see halls and sections of the building to look like quarantine scenes from Steven Spielberg's "E.T. the Extra-Terrestrial."
"The purpose is to protect our patients, to protect staff and the construction workers — to make sure they're not transmitting something," Russell said.
Inside the mock hospital room, the apprentice carpenters labored in their Tyvek suits, which are discarded as construction waste at the end of a day.
There are currently 121 apprentice carpenters working out of the Hermantown union hall, with plans for up to 100 more by the end of this year. Ben Pratt, training coordinator, described the work of an industrial carpenter. It includes a wide array of tasks, including building scaffolding and forms for pouring concrete, framing walls, hanging drywall and finishing interior work.
"The beautiful part for me is, these folks are going to start and finish their apprenticeship having done a little bit of everything," Pratt said.
His surroundings sealed tight and his gloves taped to his wrists, Tyler Kemp, 24, of Eveleth, spoke from behind a dust mask.
"We're going to have a sauna in here," he said.
Nearby, Nick Gant, 24, of Superior, described moving back to Duluth from Alaska to find the carpentry business booming.
"We rarely work alone," he said, describing a buddy system along the lines of "You vacuum dust from my back, I'll vacuum yours."
"We do it to keep patients secure," Gant said.
"It helps stop us from bringing bad stuff in," Shadd said, "and bringing anything back out."
1
/
6:
Austin Seidel, right, of Bemidji, tapes up the wrists of Zach Sadenwasser, of South Range, before they work on Infection Control Risk Assessment practices at the Carpenters Local Union in Hermantown on Wednesday, Feb. 19. (Jed Carlson / jcarlson@superiortelegram.com)
2
/
6:
Tyler Kemp, of Eveleth, tapes a filter onto a window covered by plastic at the Carpenters Local Union in Hermantown on Wednesday morning, Feb. 19. (Jed Carlson / jcarlson@superiortelegram.com)
3
/
6:
Zach Sadenwasser, of South Range, screws a beam into place at the Carpenters Local Union in Hermantown on Wednesday morning, Feb. 19. (Jed Carlson / jcarlson@superiortelegram.com)
4
/
6:
Porcha Shadd, of Duluth, zips an entry closed that she created at the Carpenters Local Union in Hermantown on Wednesday morning, Feb. 19. (Jed Carlson / jcarlson@superiortelegram.com)
5
/
6:
Austin Seidel, left, of Bemidji, and Zach Sadenwasser, center, of South Range, listen to lead instructor, Joel Stone, of Superior, at the Carpenters Local Union in Hermantown on Wednesday morning, Feb. 19. (Jed Carlson / jcarlson@superiortelegram.com)
6
/
6:
Nick Gant, of Superior, tapes plastic to a wall opening at the Carpenters Local Union in Hermantown on Wednesday morning, Feb. 19. (Jed Carlson / jcarlson@superiortelegram.com)