Big utility customers have outsized impact on Northland
Shifting consumption rates can create challenges.
We are part of The Trust Project.
DULUTH — The activity or inactivity of some of the Northland's largest utility customers dramatically shapes the systems that deliver water, natural gas and electricity to all the region's residents.
Perhaps nowhere was that influence more clear this past year than in Duluth, where Verso Corp. — far and away the city's largest water consumer — stopped production at its local paper mill .
In 2019, the mill guzzled an average of more than 3.7 million gallons of water daily, or in excess of 1.35 billion gallons annually, according to city records.
By 2021, the idled Duluth mill consumed an average of just 351,982 gallons per day, or just shy of 128.5 million gallons in the whole year. That's a 90.5% reduction in usage, dropping the plant to the city's second-largest water customer.
Eric Shaffer, chief engineer of Duluth's water and gas departments, said Verso's water bill dropped by about $1 million, putting a serious dent in the utility's budget. Meanwhile, a six-year plan to increase water rates across the city was intended to fund system upgrades, but Shaffer said many anticipated capital improvements had to be placed on hold, given the loss of revenue following the paper mill's shutdown.
Fortunately, ST Paper has purchased the paper mill and aims to restart it in modified form later this year.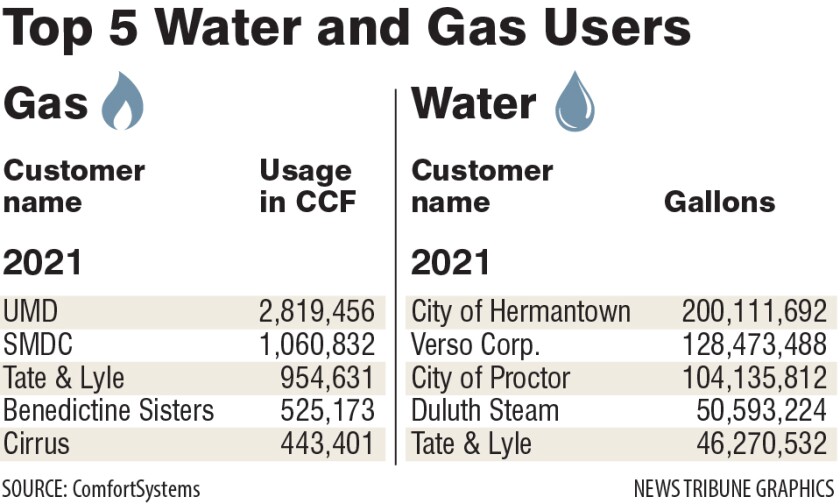 That's good news for Duluth's water utility, but also for Minnesota Power, which used to count Verso as one of its 21 biggest electrical accounts. The company does not disclose more detailed information on its individual customers.
Frank Frederickson, Minnesota Power's vice president of customer experience, said many of Minnesota Power's large industrial clients experience sometimes-dramatic surges and declines in business.
He noted that Verso had produced supercalendered paper — a glossy light-weight stock widely used in catalogs and advertising circulars. But demand for that product has waned as more and more consumers have shifted to shopping online.
Now, ST Paper plans to convert the mill to produce tissue paper, a product that remains in high demand.
Frederickson said other area forest product enterprises are responding to strong market opportunities, noting Minnesota Power's recent work with Huber Engineered Woods, a company that hopes soon to open an oriented-strand board plant in Cohasset.
"We've all seen the amount of building that's going on across the country and just how important it is to have access to high-quality building materials," he said.
Shaffer said demand for water in Duluth has been gradually declining, as the city continues to replace and repair leaky pipes and customers make strides in conservation.
Ever-Green Energy, which operates Duluth's district heating and cooling system, including the steam plant, has been one of the most successful water customers when it comes to improved efficiency and decreased consumption.
Ever-Green still ranks as Duluth's fourth-largest water user, consuming 50.6 million gallons in 2021. But Terry Nanti, general manager of Ever-Green's Duluth operations, said that usage is down more than 20 million gallons from 2015.
He said there are two primary developments that have enabled Ever-Green to so substantially reduce its water consumption. One of those was the steam plant's shift away from using coal as its primary fuel. As it switched over more of its boilers to cleaner-burning natural gas, the plant has had to grind far less coal. Nanti explained that the steam turbine mill used to grind that fuel accounted for a substantial amount of the plant's water bill.
The other major change has been the replacement of old steam lines with a closed-loop hot water heating system — a project that coincided with the reconstruction of Superior Street.
With the old system, Nanti said: "All that steam that leaves the building never comes back."
"But with the closed-loop hot water system, when we send the water out, it's turned into useful energy in a building, then it comes right back to the plant," he said.
"With a hot water system, you might send the water out at 200 degrees and get it back at 160. So, you're only heating it up 40 degrees, " versus steam, "where you're getting water from the lake at around 40 degrees and sending it out at 360 degrees. So, you use a lot more energy and a lot more water," Nanti said.
Duluth's largest water customer in 2021 was Hermantown, consuming more than 200 million gallons of water, followed by Proctor, which used more than 104 million gallons that same year.
Shaffer said the city annually spends about $1 million on electricity to move water to its final destination, a process that often requires multiple pump relays.
"To pump it up those hills takes a lot of horsepower," he said.
Where water consumption in Duluth has been on a downward trend, natural gas use continues a gentle upward climb, as additional customers continue to hook into the system, Shaffer said.
But the growing customer base is moderated again by conservation, as folks invest in high-efficiency furnaces.
The University of Minnesota Duluth is the city's largest natural gas customer, consuming more than 2.8 million CCF (the equivalent of 280 million cubic feet) of the fuel. But the campus has been working to tamp down its bills, trimming its natural gas consumption by 7.4% from 2019 to 2021.
At this time, ME Global actually would surpass UMD as the city's largest natural gas customer, but it does not purchase its fuel from Duluth. Rather, the Gary/New Duluth foundry buys its own supply of natural gas directly — about 3 million CCF (300 million cubic feet) of it annually — paying the city only to transport it.
ME is also one of Minnesota Power's 21 largest customers. But Duluth customers represent less than a quarter of the company's business.
Minnesota Power's largest customers are Iron Range mining giants U.S. Steel Corp. and Cleveland-Cliffs Inc., accounting for a combined 54% of its total business in 2020.
Frederickson said mining has always been a cyclical industry that varies with national and global demand for steel.
He said that despite the initial economic shock of the COVID-19 pandemic in 2020, "The steel industry really bounced back pretty strong in 2021." He cited recent high consumer demand for durable goods, including large household appliances and vehicles.
Fredrickson said Minnesota Power benefits from having an unusually large base of industrial customers, versus a heavier reliance on residential and commercial clients whose power usage varies widely with the time of day.
"The higher load factor customers that are using energy more continuously, they use the system a little more efficiently," he said.
Those large industrial customers often operate around the clock, and Frederickson said they help the utility make better use of wind power assets, as turbines generally more electricity at night than during the day.
"That's opposite to how a homeowner or a small business uses energy. So, those businesses that use energy at night are actually able to more efficiently utilize wind energy, which is actually an enhancement to the sustainability of the system, as well," Frederickson said.
Some large customers also have the ability to shift to backup power systems on demand, enabling Minnesota Power to keep its system costs in check during periods of peak demand.
"So, we are unique in that having that large industrial base and working with them does help keep overall customer costs down," Frederickson said.
The paper company stopped paying when it closed its Duluth mill last year.